Ichiro 'ties' Pete Rose on the all-time hits list with a leadoff single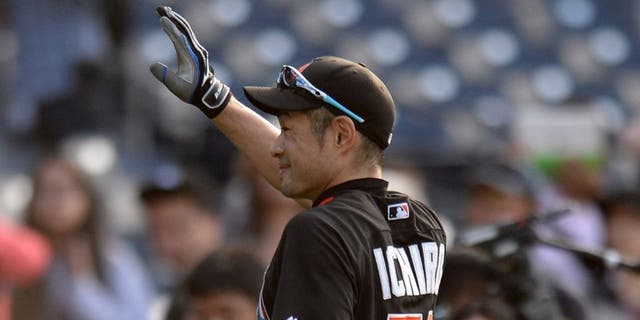 NEWYou can now listen to Fox News articles!
Ichiro Suzuki picked up the 2,978th hit of his major-league career with a leadoff single Wednesday against the San Diego Padres. Combined with his 1,278 hits in Japan, his total now matches Pete Rose's 4,256 hits.
Perhaps fittingly, Ichiro's historic hit was an infield single.
Rose, of course, collected all of his hits in the majors and hasn't been shy about telling everyone that Ichiro isn't really going to dethrone him as the all-time hit king. And it all has fueled quite a debate within the baseball community.
Nonetheless, it's an amazing accomplishment for Ichiro, who debuted in the majors at age 27 in the 2001 season with the Seattle Mariners. Now 42 years old, Ichiro has his batting average hovering around .350 as a part-time outfielder with the Miami Marlins.