Ian Freeman recalls fighting the match of his life before facing his father's death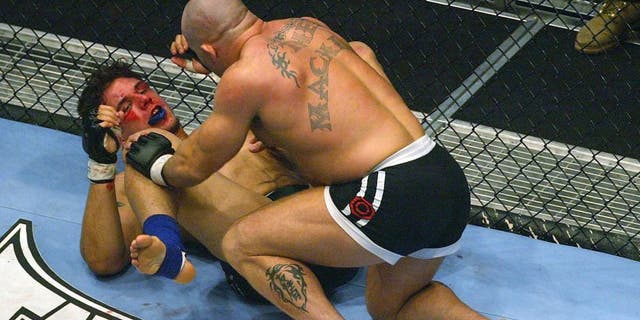 Ian Freeman will never forget the moment he found out that his father was going to die.
He was just days away from the biggest fight of his career at UFC 38 in England against Frank Mir back in 2002.
"He was diagnosed with brain cancer with two weeks left to live," Freeman told FOX Sports this week. "The fight was a week away and I thought, 'Great, let me go do this fight, let me beat up Frank Mir, let me win and let me tell my dad I won and he'll die a happy man.'"
Freeman idolized his father, Billy and wouldn't have been fighting in the UFC in the first place without him.
Freeman's dad grew up a boxer in England. He loved the idea of his son becoming a fighter as well, though he never pushed for it. But when Freeman was attacked, mugged and left for dead while he was a teenager, beaten so severely that it put him in the hospital for three days, he had no choice but to fight back.
And his father was right there beside him the entire time.
"He was the one that got me out of a pretty bad hole. It was a bad time in my life," Freeman said. "I was afraid of going outside. I must have been about 150 pounds. I wasn't a big guy and I was afraid to go outside because I thought I'd get attacked again. It was the worst time in my life."
The broken ribs and other injuries Freeman suffered eventually healed, but the fear remained. Freeman's father, though, refused to allow him to hide from his troubles any longer, so he got out a punching bag, put some gloves on his son and taught him the art of boxing. Ever since that moment, Freeman was a fighter.
So it's easy to understand why Freeman was so elated to fight close to home back at UFC 38 with a chance to make his father proud while competing on the biggest stage in mixed martial arts.
Freeman put in a hard training camp alongside Josh Barnett, who was the UFC heavyweight champion at the time, and he knew beyond a doubt that he was going to beat Mir. It wasn't a question, in his mind. It was a statement of fact.
"Frank Mir could have took out a gun and shot me. If it wasn't a fatal wound, I still would have beaten him," Freeman said. "No man alive could have beaten me that night. No one that night could have broken my will."
The matchup pitted a classic striker versus an adept grappler, with Freeman looking to land shots with his heavy hands while Mir was searching for a submission. To that point in his career, Mir was 4-0 as a pro with all four wins coming by tap out due to submission.
Midway through the first round, Mir grabbed onto Freeman's leg and started to apply a heel hook, which is one of the most dangerous submissions in the sport. The hold torques at the ankle, twisting and turning a fighter's knee, and that's what happened to Freeman.
Freeman will never forget the sound of his own knee popping, and he knows both Mir and referee "Big" John McCarthy heard it too. But still he refused to tap.
"He had me in the heel hook and my knee was popping. My knee was cracking," Freeman said.
"I wanted to scream out with pain but I knew John McCarthy would stop it, so I just ignored it, grabbed his head and just started pounding into his face. It was tremendous pain but pain is temporary."
Freeman, who says he still has problems with that knee, hammered away at Mir until he finally slipped free of the hold and landed on top. Freeman began raining down shots on Mir and with each punch he could feel his opponent fading.
Finally, Freeman trapped Mir against the cage and started unloading a barrage of elbows and punches until he stood back up on his feet again. McCarthy instructed Mir to stand, but the future heavyweight champion stumbled and eventually fell back to his knees.
The referee stopped the fight and Freeman leapt onto the cage wall where he celebrated with his hometown fans. He jumped down and attempted to do the same on the other side, but his knee was so damaged from the submission that he couldn't handle the pain to climb up the cage again.
Following the victory, Freeman was overwhelmed with happiness, but there was still only one thing on his mind.
"I dropped down and I walked straight up to my wife," Freeman said, "and if you look you can actually see me say it -- 'Is my dad still alive?' She went, 'What?' I said, 'Is my dad still alive?' And she said, 'Yes, as far as I know'. That was going through my mind. What if he dies before I finish this fight? Because all I wanted to do was get through this fight and go home and tell my dad I won. I gave my dedication to my dad at the end."
It was the biggest moment of Freeman's career and he was so excited to head back home again to share in the moment with his father.
But once Freeman got to the back of the arena, he called his mother to revel in the victory but instead was greeted with some tragic news -- his father had died. He had, in fact, actually passed away a day before his son's fight, but his dying wish was that his family wouldn't share the news with him until after he had already defeated Frank Mir.
"It was his dying wish that I beat Frank Mir," Freeman said. "If it was any other fight, I know for a fact I wouldn't have done the fight. Because it was such a big thing and my dad knew it was such a big thing so he wanted me to do it."
Freeman's father had never wanted something so much for his son as he did for him to get a win in the UFC in front of his home fans. It was the last gift he would give Freeman before he passed.
"I always tell people there's a story behind every fight," Freeman said. "There's always some story behind every fight that I've ever had. This was the story. If you can try to imagine -- beating Frank Mir, the poster boy, in the first ever UFC in England, in front of my home crowd, doing it for my dad and I was so excited to tell my dad. Then I picked the phone up to ring my mother and found out he was dead.
"I went from elation to just pure sadness in an instant. I was in shock. I don't even think I cried, I was just empty. I've never been so happy and so sad within the span of five minutes."
Freeman, now 49, never won another fight in the UFC after that fateful night in London 14 years ago, but knowing that he made his father proud one last time is the only thing that matters to him.
For more on Freeman's story, check out his new Fightography currently available on UFC Fight Pass.