Ian Desmond's likely parting words with the Nationals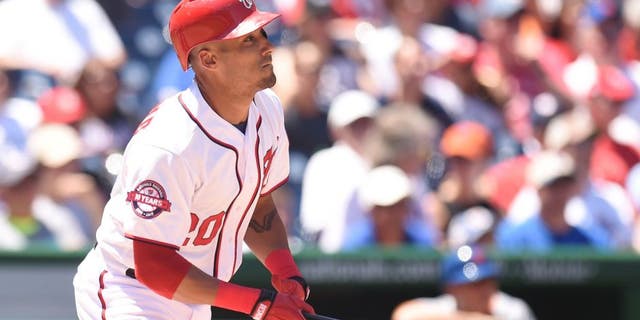 NEWYou can now listen to Fox News articles!
All indications suggest that Ian Desmond won't be with the Washington Nationals next year, which meant that Sunday was likely his final game in a Nats uniform.
After seven seasons with the team, Desmond isn't expected to be re-signed by the Nationals when he enters free agency after the postseason ends in November.
"When I got drafted by the Expos, they didn't know where the team would be," Desmond reminisced. "But they couldn't have found a better home. I'm extremely proud to say that I was a Washington National."
While Desmond experienced a regression at the plate this season, hitting .233/.290/.384 with 19 home runs and 62 RBI after batting .255/.313/.430 with 24 home runs and 91 RBI, he remained a beloved figure in the clubhouse.
"If he doesn't come back, I'm definitely going to miss him. He's family to me," slugger Bryce Harper said. " … I'm going to miss him all around. The way he fights out there. The way he plays. The way he goes about it. He's just a good person through and through. He's a great ambassador for the Washington Nationals."
"Ian Desmond is the rock of the organization," general manager Mike Rizzo said. "A guy that when I became the GM we made him the everyday shortstop, and [he] has blossomed into one of the best in all of baseball. So yeah, these guys, when these guys are in their last years, their decision-making years, it's very, very difficult for us personally and professionally."
The 30-year-old is now likely headed for a different team after spending over a decade in the Nats organization, as he was drafted by the franchise when it was still the Montreal Expos in 2004.
"This organization has been nothing but good to me," Desmond said. "We've come a long way, a long way personally and as an organization."