Ian Desmond on learning how to play first base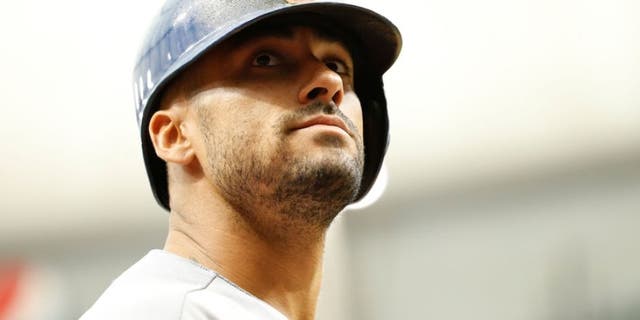 NEWYou can now listen to Fox News articles!
SCOTTSDALE, Az. -- Think anyone can play first base?
Here are just some of the elements that Ian Desmond is trying to master while learning the position with the Rockies. with whom he signed a five-year contract in the offseason:
The 3-6-3 double play
"It's a quick turn, a throw and get back to the bag, find the bag as quick you can and pick up the throw," he said. "Early on, when I was practicing, I was like, 'I'm getting dizzy' -- legit.
"You think it's just fielding the ball, throwing it and getting back. But there is a speed to the game where you're snapping your head left-right, left-right, and then you're getting there and picking the ball. When you do that over 50-60 reps, it's more than what you think."
Bunt plays
"Yesterday I had my first one. I charged up to it and didn't really realize the timing of it and chucked it down the third-base line. Those are all instincts I'm trying to acquire.
"I don't have any instincts. I don't know anything about the timing. I can think I know. But you don't really know until someone says, 'Hey, you've got a lot more time than that.' "
Scoops
"It's a different glove, a different amount of dirt-to-grass ratio. A lot of picks at short (on throws from the catcher) are coming off the grass, so it's a longer skip. Or a very short skip. There are very few in-between at the bag. You're either getting grass or you're getting dirt.
"At first, if it's a double-play ball, you can get all dirt. If it's deep in the '4' hole, you're turning around quickly, you're using footwork, you can't really stretch. There's a lot more depth in picking at first base. You have a lot more room to absorb the ball."
Pickoffs
"I've done a few. It's hard to simulate. No one is trying to trick you.
"In the game, (the pitchers) are trying to trick the base-runner. In turn, sometimes you trick the first baseman. But one thing that will benefit me is that being a base stealer myself, I'll have the same keys on a pickoff as I would stealing a base."
"Early on, I was doing it the way I thought was right. We kind of tinkered with it from there.
"It's getting more comfortable every day. But I could never just grab a glove and go over there and play. And I would never do that. That's kind of disrespecting it, and the guys who have done it already. It's not an easy position. I never claimed that it was."