Hulk pushes Brazil past Costa Rica in World Cup qualifying tuneup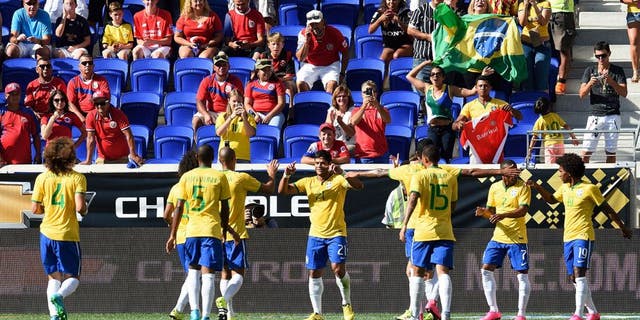 NEWYou can now listen to Fox News articles!
HARRISON --
N.J. - Hulk scored in the 10th minute after an early stretch of Brazilian dominance and the five-time world champion beat Costa Rica 1-0 on Saturday in a World Cup qualifying tuneup match.
Despite Costa Rica employing five defenders, Brazil clearly had the better of play throughout, with the Ticos only occassionally managing to get forward on counters.
Brazil used a somewhat experimental lineup with Hulk as the lead striker. Manager Dunga stayed with his starters until the middle of the second half. He used six substitutes, sending in Orlando City forward Kaka in the 67th and Neymar in the 82nd, both to large ovations from the crowd of 19,146 at Red Bull Arena.
Neymar only last week returned to Barcelona's lineup after a case of the mumps and reportedly limped out of training Thursday after grabbing his knee.
Brazil took the lead when Hulk and Costa Rican defender Giancarlo Gonzalez raced to get to a ball from Danilo out of the back. Gonzalez overran the ball and slipped as Hulk lost his footing and fell. Hulk recovered first and put a left-footed shot past goalkeeper Patrick Pemberton.
Brazil dominated from the opening kickoff, generating two chances in the first five minutes that Pemberton needed dramatic efforts to save. He tipped Hulk's free kick from 30 yards over the bar and less than a minute later knocked down David Luiz's shot at the right post that he scrambled to cover.
Costa Rica had its best chance in the 55th, but Bryan Ruiz's goal was ruled offside. Brazil will face the United States on Tuesday in Foxborough, Massachusetts, as part of its two-game friendly American tour, while Costa Rica will return to San Jose to face Uruguay, also on Tuesday.
The Brazilians begin South American World Cup qualifying Oct. 8 against Chile. Costa Rica is set to face South Africa in October before beginning CONCACAF World Cup qualifying in November.
The match was the first for both teams since losing in the quarterfinals of their respective continental championships earlier this summer. Brazil was eliminated by Paraguay on penalties at the Copa America and Costa Rica, a quarterfinalist at last year's World Cup, was beaten by Mexico in the CONCACAF Gold Cup.
The Ticos were playing their first match under manager Oscar Ramirez, who replaced Paulo Wanchope last month. Wanchope resigned after getting into a fight while attending a Central American CONCACAF Olympic qualifier in Panama.