Hugo Lloris' brutal howler hands Sweden a win over France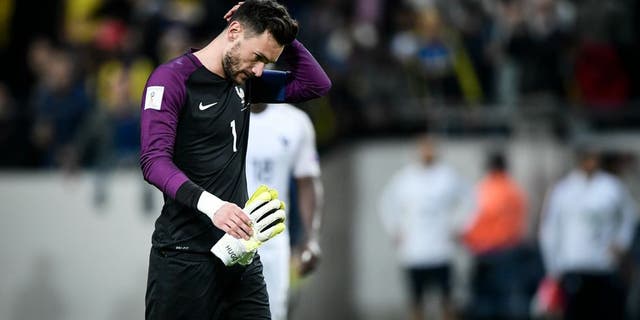 NEWYou can now listen to Fox News articles!
It's not often you can place an entire defeat at the feet of one player, but it's hard to do anything else to Hugo Lloris after Sweden beat France at the death on Friday. The two European countries were locked at 1-1 in their World Cup qualifying match when Lloris had a brain fart so robust it could clear out an entire movie theater.
With the seconds ticking away in stoppage time, the Tottenham goalkeeper collected a back pass, dribbled out of his box and fired what appeared to be a pass or clearance up the field. Whatever it was, it didn't work.
Ola Toivonen capitalized on Lloris being nowherenear his own goal and the Swede launched a one-timerocket with his right foot. The blasted attempt from right around the halfway line took one bounce as a scrambling Lloris was unable to get back and make an attempt on the ball.
The French players were left with their hands on their knees, wondering what in the world just happened. Look, Lloris is still a top-notch goalkeeper, but mistakes of this magnitude aren't supposed to be in a world-class keeper's repertoire. As it stands, the loss bumped Sweden above France for the lead in Group A.
That, coupled with the Netherlands winning and now sitting on 10 points, makes that groupa lot more interesting going forward. Hopefully, Lloris can shake it off quickly. Francewill need him to be back to his normal self when UEFA's qualifying continues in August.
MORE FROM FOX SOCCER