Hue Jackson nervous about Giovani Bernard as a returner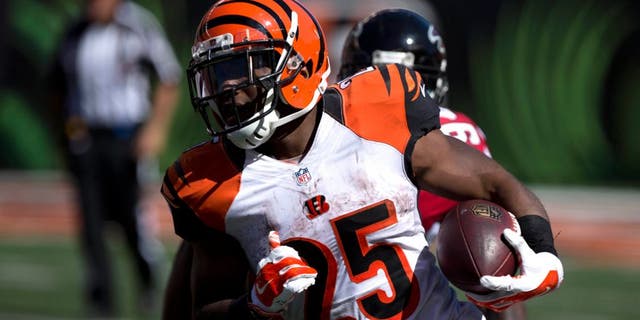 Bengals running back Giovani Bernard may see a decrease in carries this season, but his coaches are still looking for other ways to get the ball in his hands, including on special teams.
Bernard has been getting reps as a kick and punt returner so far in training camp, something that makes offensive coordinator Hue Jackson more than a little nervous.
"If anything, it might scare me because he's so valuable to our football team," Jackson said per ESPN.com. "But if that's what it takes to help us win, then I'm all for it. And if it takes another opportunity for him to touch the ball then that's great for him.
"He's a very talented guy and he deserves to have the ball in his hands. But at the same time he's such a huge part of what we do on offense that I'm sure as we move forward we'll continue to discuss it."
Bernard, who began last season at the top of the running back depth chart before ceding time to Jeremy Hill is open to whatever opportunities are presented to him. He just wants his hands on the ball, and he had success as a punt returner in two years at North Carolina, averaging 16.4 yards per return with two touchdowns.
"Whenever those opportunities come, however they come, whether it's on special teams or not, I've just got to capitalize on that," Bernard said. "It's just more opportunities to shine."
h/t: ESPN.com