However good you think Argentina is, they're even better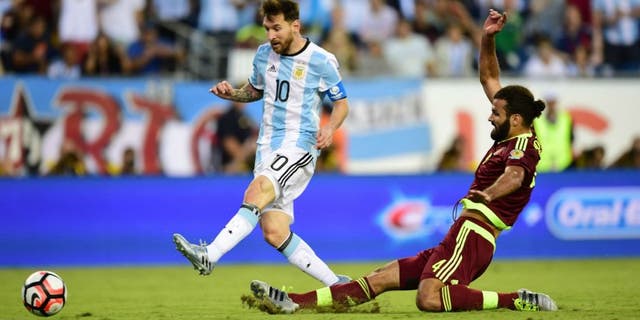 NEWYou can now listen to Fox News articles!
Argentina are the best team at Copa America Centenario. They might be the best team in the world. And yet simply saying so may not be doing them justice.
As the United States get ready to face off against La Albiceleste in the semifinals, they're faced with a daunting task -- beating a team that, to this point, has looked unbeatable.
Argentina have out-scored opponents 14-2 at Copa America. Unsurprisingly, Lionel Messi is leading the way with a tournament best four goals, a feat that is even remarkable considering that he played a grand total of 74 minutes in the group stage as he recovered from a back injury. So Messi is the best goal scorer at Copa America with a bad back and while spending more than half of the tournament on the bench, but he is rounding into form, playing all 90 minutes in the quarterfinals.
In addition to Messi, Argentina have eight other goal scorers in the tournament. That gives them more goal scorers than any other team (except Chile) in Copa America has total goals.
As for that Chile team, who are into the semifinals after demolishing Mexico, 7-0, remember back to the first round of matches at Copa America. Argentina squared off against La Roja and absolutely dominated their South American counterparts, without Messi, who watched from the sidelines. The match may have finished 2-1, but it wasn't as close as the scoreline suggested. Argentina were miles better than Chile, out-playing them in every phase, generating chance after chance and not conceding much of anything to La Roja until a stoppage time goal when the match was long over.
Chile are the unquestioned second-best team in this tournemant. Just ask Mexico. And Argentina already waxed them without the world's best player.
Argentina aren't even a true attacking team either. They're more of a defensive juggernaut than anything, and that's nothing new.
La Albiceleste have played three tournaments in the last three years, from the World Cup, to two Copa Americas, and so far they have played eight knockout stage matches. They've allowed a grand total of two goals in those eight contests, one in a 6-1 win and the other in the second half of extra time in the World Cup final.
That's what happens when you have arguably the best defensive midfielder in the world to guard your backline, like Argentina have in Javier Mascherano. The Barcelona man, who more often plays in defense for his club, is a monster in the midfield, cleaning up loose balls, cutting out counterattacks before they can be a danger and completely eliminating any space opponents think they have in the Argentinean final third.
Combine Mascherano with an exceedingly defensive set-up, playing two conservative fullbacks and keeping two midfielders behind the ball at almost all times and you have a team that is nearly impossible to break down.
Most teams couldn't get away with being so defensive, but most teams don't have Messi. Or Angel Di Maria (who is reportedly nearing a return from injury). Or Sergio Aguero (who doesn't even start all the time). Or Gonzalo Higuain. Or Nicolas Gaitian. Or Ezequiel Lavezzi, Erik Lamela and Javier Pastore (who are on the bench).
Argentina can do everything in their power to defend and still tear you apart with attacking firepower. Such is the nature of a team that talented, that organized and that well-drilled.
It's not so much that the U.S. have a task that looks nearly impossible in the semifinals as it is that most any team in the world need to be at their very best, and then some, to beat Argentina. And that's without Messi at his best, which won't be the case from hereon out.
Argentina are simply on another level.
MORE FROM FOX SOCCER