How will Boston Celtics fit Evan Turner into their rotation?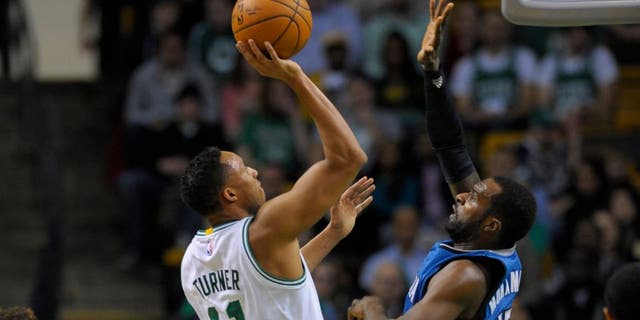 Evan Turner was an important player for the Boston Celtics last season. He handled the ball, ran the offense and created scoring opportunities off the dribble.
But the 2015-16 Celtics don't need him in this role anymore. They're trying to develop Marcus Smart's point guard skills and understandably want the ball in his hands as often as possible.
Here's SB Nation's Celticsblog with a smart look at how Turner may get fazed out of Brad Stevens' rotation sooner than later:
"Thanks to the on-hands tutelage of Boston's coaching staff and a supreme work ethic, Smart was significantly more advanced as a pick-and-roll ball handler the last two months of the season and showed substantive progress with his change-of-speeds and direction throughout summer league. If the team intends to progress Smart's offensive impact beyond spot-up shooting, something's got to give. Turner could simply shift off-ball, or use fewer ball handling opportunities, but that diminishes his greatest skill: shot creation. He even said last preseason, via MassLive, that any coach who sticks him in the corner to shoot three-pointers is no genius. That's because he's only an average to below average spot up shooter, hitting just 28.1 percent of his catch-and-shoot threes last season."
Turner is essentially useless on offense when the ball isn't in his hands, and thanks to Smart and Isaiah Thomas, the ball won't be in his hands all that much this season.
He shot 27.7 percent from deep last year and his career PER and True Shooting percentage are both well below league average. He can't space the floor.
But the former No. 2 overall pick isn't garbage. He's an underrated defender who can be effective in the NBA. Boston should look to trade him to a team more in need of his particular skill set.
(h/t: Celticsblog)