How the Irish have changed since Te'o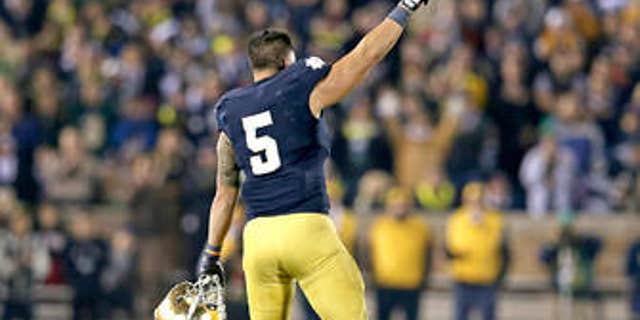 Maybe it's because his final game wasn't nearly his finest moment, or because he's been injured and a bit out of touch since, or because we all just grew achy upon hearing his name. Maybe it's something else.
Whatever it is, Manti Te'o feels so far removed from Notre Dame, and Notre Dame feels so far removed from the Great Resurgence of 2012.
Only eight months have passed since Alabama beat Notre Dame in the 2013 BCS title game, since the Irish completed a season that meant more than any other to rural Indiana in two decades.
It was just the other day, really, that Te'o flew around Notre Dame's defense and Brian Kelly began to deliver the sort of success that South Bend's been waiting for since Lou.
And still, it feels like the program has shifted a considerable distance in that time, far more than any other "elite" program from a season ago. Notre Dame ended last season ranked No. 4 in the AP poll, opened 2013 at No. 14 and now sits at No. 22 heading into its biggest game since 'Bama.
No. 14 Oklahoma visits this weekend, and a cloud of skepticism still hangs over the Irish. They could afford to lose to Michigan, as much as that game means to Notre Dame, and still keep their cargo on the tracks. But they likely can't lose to Oklahoma and return to a BCS game this season. Oh, sure, two losses doesn't decimate a season, but it would disappoint the people of South Bend, as last season's fruits brought about a new - or old - set of standards.
How far removed from South Florida and the championship game is Notre Dame? Maybe we can't know the full answer to that question at this time, but we can count the ways life has changed in South Bend since Te'o departed. Here are five:
1. The narrative says Notre Dame is "back," except when it doesn't
It's been 20 years since Notre Dame was referred to as a football champion in any sense, and the university doesn't even claim that 1993 national title since it wasn't unanimous. The last championship the Irish claim is for the '88 season, when they beat West Virginia in the '89 Fiesta Bowl to complete a 12-0 run.
So it's been a while, and maybe that's the reason so many fervently called Notre Dame "back" even before the national championship game against Alabama.
Thing about narratives, though, is they're malleable. They're a super substance, really, perfect for shaping and molding and solidifying until the point at which we decide to reshape and remold and re-solidify all over. When Notre Dame reported to fall camp this summer, the Irish had entered the state of having to prove 2012 wasn't a fluke .
No, it doesn't make sense. Logic would suggest the proving comes before the proclaiming of some glorious return. Here's reality: In the three seasons under Kelly, Notre Dame has gone 8-5, 8-5 and 12-1. It beat Miami in the Sun Bowl, lost to Florida State in the Champs Sports Bowl and, of course, lost to Alabama in the BCS championship.
It's a positively upward trend, one that makes you think Charlie Weis wasn't even coaching at the same school. But given Notre Dame's history, Kelly's Irish don't nearly stand among the greatest Irish. A few more seasons like the last one, however, and the narrative will shift again.
2. There's a massive, and expected, void in the defense
Te'o spent the weeks between Notre Dame's last regular-season game and the championship collecting awards, including the Walter Camp and the Maxwell and the Nagurski and the Lott and the Butkus. He finished second in the Heisman. Manti had a good year other than, well ...
That's just one game, Irish fans, just one game. Manti was great most of the time, and who would replace him was a primary question of the offseason.
As Manti handled the Mike duties last season, Dan Fox and Carlo Calabrese formed a platoon at the Will linebacker position, with Fox, who's better in coverage, handling the majority of passing downs. They combined for 112 tackles and four tackles for loss, returning this season as seniors to share duties with third-year sophomore Jarrett Grace at the two inside LB spots.
Grace has been groomed to replace Te'o - last season, Te'o was something of a mentor to him and, when talking football, would speak to Grace as if he had already be deemed the heir apparent to Te'o -- but Kelly and defensive coordinator Bob Diaco, understandably, deflected such certitudes in the preseason.
Diaco likes the skillset Grace brings - his speed, change of direction, general feel in coverage and acute instinct for finding where the football will end up - but when discussing over the summer how he'd replace Te'o, Diaco would instead stress the importance of re-evaluating whole defensive concepts. It wasn't about filling in for Te'o, Diaco was suggesting, but rather evaluating this new group of personnel and then crafting its own identity.
Has it worked? Not as well as Irish fans would have liked so far. Last season, Notre Dame ranked second nationally in scoring defense (12.8 ppg), 13th in passing yards per attempt (6.0) and 16th in rushing yards per attempt (3.47). Those numbers in 2013, in order: 45th (21.0 ppg), 29th (5.8) and 49th (3.69), 29th.
That decline isn't all because of Te'o, of course. Notre Dame also lost DE Kapron Lewis-Moore, S Zeke Motta and S Jamoris Slaughter. There's still a lot of talent here, though, including a nasty defensive line led by nose guard Louis Nix and DE Stephon Tuitt. Even the LB has upside in depth if not in a Te'o-like talent, earning the No. 7 slot in Phil Steele's preseason positional rankings.
It's a new-look defense, but also one that should improve as it progresses deeper into its schedule. We'll see what the Irish look like in their final regular-season game against Stanford.
3. We no longer get Manti music videos
This isn't a loss for Notre Dame. This is a loss for society.
4. We are (a little) more cautious in our rush to glorify athletes
There's been plenty said about Te'o and his girlfriend hoax, and I don't want to revisit it here. But it will be talked about forever when his name comes up, and there's actually something useful to be gleaned from that conversation.
As Tim Layden wrote in Sports Illustrated last January, for better or worse storytelling will change after the Te'o debacle. Details will be met with more scrutiny, sources will be vetted more rigorously, anecdotes will be crosschecked more thoroughly. At least that's what Layden theorizes, and I hope that is true. Limiting the embellishment and dramatization in stories and elevating truth is an obvious net positive for everyone.
Will that hold over time? I don't know. It's more likely the fear and angst the Te'o story brought about will fade, and we will be overcome by the desire to tell the next, quite literally, unbelievable tale. Josh Levin in Slate tackled how, with Te'o, the media was tripped up by confirmation bias . Through highlights and sound bites and social media and a thousand little endearing moments that pave college campuses each fall, a narrative is crafted around an athlete and then supported, sometimes vigorously if it is especially good for business. Lost in that cycle, occasionally, is common sense and clear thinking.
Did we learn from Te'o? We can't know, but we can hope.
5. The Brian Kelly-NFL flirting has become next-level good
With Notre Dame's success last season, Kelly gained a seat on the top tier of college coaches being recruited by the NFL (along with Chip Kelly, David Shaw, Kevin Sumlin and Bill O'Brien).
Days before the BCS Championship Game, Kelly talked around the NFL chatter and said he's "not aware" of any NFL team having any interest in him . Also at that time, Kelly said leaving Notre Dame "is not an option," which he also said to his players at Cincinnati before bolting for South Bend shortly thereafter.
In expected fashion, Kelly interviewed with the Philadelphia Eagles one day after the Irish lost to Alabama. A couple days later, he declined the job and over the summer parlayed it into a five-year extension with Notre Dame, at which point he declared the reason for extending with the Irish was to ensure "we're all in this together. That's what I was looking for."
None of this waffling is wrong, mind you, it's simply the ebb and flow of the business these men have chosen.
College football coaches make more sense if you view them as assets, with the only goal being to sell high. Brian Kelly jumped to his next destination when his perceived reputation allowed him to do so. In terms of managing their own careers, it's never really about being "all in this together" or "staying the course" or any of that. It's more of a keen feel for when to be upwardly mobile.
When Kelly passed on the Eagles, he talked about his dreams of being in the NFL . "Like every kid who has ever put on a pair of football cleats, I have had thoughts about being a part of the NFL," Kelly said.
Those childlike dreams won't ever die. Yes, Brian Kelly will continue to push Notre Dame forward, out of the Te'o era and into what he hopes is the next great run. When the time is right, he will accept the next opportunity, and a new coach will bring a new approach to an old program, starting this progression all over again, with Irish fans hoping the next is better than the last.
Amid all the change at Notre Dame, I suppose some things do stay the same.