How Stephen Curry and Harrison Barnes' contracts will affect the Warriors' cap situation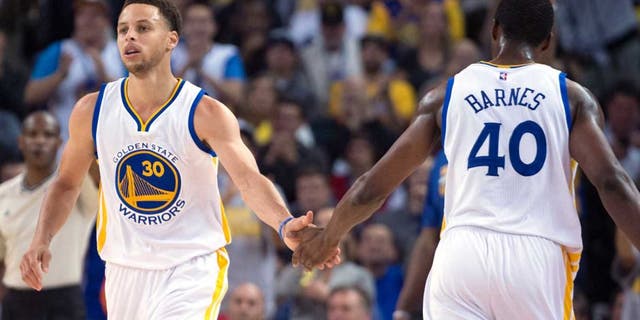 Golden State Warriors fans can take a collective breath: Stephen Curry says he has no plans to leave the team when he enters free agency in 2017.
The problem is that Curry will have to enter free agency to get the contract he deserves, and whenever a player is a free agent, there's always the threat -- even if it's minuscule -- of him leaving.
But as long as Curry is in the fold -- along with Klay Thompson and Draymond Green -- the Warriors will be bona fide contenders. Whether they're the favorites or not, however, will dpeend on how well they're able to retain their depth, especially young pieces like Harrison Barnes and Festus Ezeli.
Barnes, in particular, still has a lot of potential left in the tank at just 23 years old, and the Warriors would be foolish to let him walk away (barring a ridiculous overpay).
But just exactly how much is Barnes worth? And how will Curry's forthcoming monster extension affect the Warriors' cap situation and potentially their ability to retain Barnes? Well, Tim Kawakami of the San Jose Mercury News broke down the contract situations of Curry and Barnes in an in-depth piece on Tuesday.
Here's Kawakami on Curry:
"Even if he's dead set on returning to the Warriors -- which seems like a very good bet -- the difference between signing an extension before free agency and waiting for free agency and THEN re-signing is…. $130.57M total.
"And remember, Curry went for security in his original four-year, $44M extension, signed in 2012… and pretty much locked him in as the most under-paid player in the NBA for the last several seasons and now it's by a large magnitude.
"His next deal has to be the big, big, big, big, BIG ONE; if he's healthy he'll deserve it a few times over.
"Curry will be 29 in July 2017. Lacob and Guber will be happy to sign him through most of the rest of his prime, and with the cap exploding, $30M will be a fair going rate for superstars.
"This is a relative no-brainer."
And on Barnes:
"However… Barnes is only 23 and he already has a long history of carrying the Warriors through periods in huge playoff games, and yes, that includes Games 4, 5 and 6 vs. the Cleveland Cavaliers on the way to the Warriors' first championship since 1975. That is rather important.
"I'm not saying Barnes is a finished product or even one of the Warriors' top three or four players.
"But with the cap exploding, $14M per won't be as large an investment as it looks now."
(h/t San Jose Mercury News)