How 'spots' on the floor have determined every recent NBA champion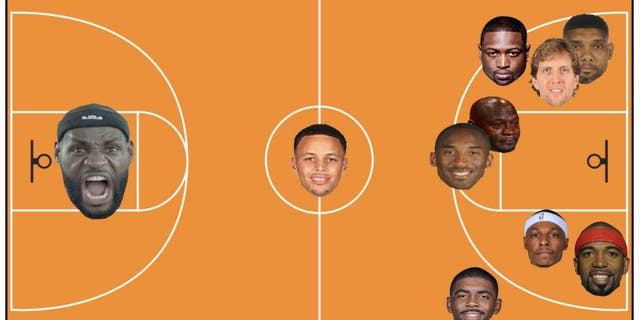 Let me take you back to a simpler time -- a time when John Stamos played the role of Jesse Katsopolis on the popular '90s sitcom Full House. We all knew Jesse as the lovable, loyal, suave Greek uncle who couldn't help but "have mercy" every time he was flattered by the great Rebecca Donaldson. While he portrayed the image of biker dude who loved rock 'n' roll, we tend to forget Uncle Jesse's laughable inability to play sports.
For example, take the episode where his kids laugh at him during a charity pick-up game because they realize he is undoubtedly the worst basketball player in the state of California ...
... and is taken to school by his pet golden retriever named Comet (who soon parlayed this performance into a career as the star of "Air Bud").
Jesse is ashamed and goes back to the court during his free time to practice before the team's next game -- where he runs into Kareem Abdul-Jabbar.
While his goal of acquiring a respectable basketball skill set that day appears to be unsalvageable, Abdul-Jabbar successfully discovers that Jesse has a spot on the floor that he cannot miss from. I'm talking Steph Curry precision. Everywhere else? The equivalent of Eddy Curry pulling up from 35 feet.
Kareem tells him: "Just get to your sweet spot, it's the only chance you have of scoring."
Fast-forward to the final point of the big game, and there is a defender standing in Jesse's spot. He cannot hit the game-winning shot unless he's standing there. In hopes of impressing Jesse's children, head coach D.J. Tanner draws up a play to get Jesse the ball as close to the spot as possible -- and what do you know … BANG! (in a rigorous Mike Breen tone).
The episode, titled "Air Jesse," aired in 1995. Little did we know the impact on the game of basketball that it would have.
You see, from that date -- and to be honest, probably before that date -- NBA champions have been defined by "spots." Take Monday night for example; Cleveland Cavaliers point guard Kyrie Irving sealed one of the most dramatic regular-season games of the year from "the spot."
That spot I'm referring to is the spot where he pulled up on Steph Curry in Game 7 of the 2016 NBA Finals to give the Cavaliers their championship-sealing lead.
Kyrie has planted his flag on the right side free throw line-extended three. This is his spot.
Since "Air Jesse" aired, there have been 10 different NBA champions -- all of whom had a designated spot for their best player.
---
Chicago Bulls (1996, 1997, 1998)
WHO: Michael Jordan
WHERE: Free throw edge pull-up
Before "The Spot," this was "The Shot" -- 1989 vs. the Cleveland Cavaliers. Trailing 100-99 with three seconds remaining, the best-of-five series tied at two, Michael Jordan's campaign to become the greatest basketball player of all-time had its first signature (NBA) moment.
Almost 10 years later, Jordan used the step back from the same spot on Utah Jazz guard Byron Russell to seal the 1998 NBA Finals, his sixth championship and his legacy as an all-time great.
Let's be honest, there was no stopping Jordan from any "spot" on the court, but this one in particular was his ace in the hole. The moneymaker. The tombstone pile-driver of basketball. Rest in peace, defense.
---
San Antonio Spurs (1999, 2003, 2005, 2007, 2014)
WHO: Tim Duncan
WHERE: Extended block bank shot
In 2017, during the small-ball revolution -- an age defined by "pace and space," three-point shooting, and the elimination of midrange jump shots -- it's difficult to grasp the fact that the San Antonio Spurs thrived for nearly two decades by employing the antithesis of today's style of play.
Granted, they didn't spend 48 minutes taking midrange jump shots en route to five NBA championships, but when the Spurs' team-fluid offense broke down and they needed an individual to go make a play Tim Duncan was there on the extended left block.
Duncan's expertise of this skill was so prominent that its impact trickled all the way down to the recreational league level. For years, if a player were to bank a shot in during a pickup game and not call "GLASS!" or "BANK!" before it went in, no respect for the score would be given -- and at times, depending on the intensity of the court, the point would be erased.
After Duncan's prime, nearly every basketball player on Earth has at one point attempted to imitate this shot. It is so popular that "GLASS!" and "BANK!" is no longer necessary from this spot. If the shot attempt actually goes in, everyone just assumes you did the Duncan. When you impressively throw a paper ball off the wall into the trash can at work, nobody says "BANK" anymore -- they say "TIMAR!"
The five rings are great and everything, but, THAT is a legacy.
---
Los Angeles Lakers (2000, 2001, 2002, 2009, 2010)
WHO: Kobe Bryant
WHERE: No-man's land
Bryant made big shots from literally every splinter on the hardwood throughout his career. However, if we take a closer look at some of Kobe's most memorable moments/game-winners -- they come from the same general area: "no-man's land," the space between the free throw line and the the 3-point arc. If you attempt this shot today, analytics-driven executives will banish you for eternity due to the "inefficiency" of the long two.
It may not have been efficient, but nobody is talking about analytics if the shot goes in. Kobe lived by the "make buckets first, let them ask questions later" code, never wavered from it once during his career, and because of it he claimed this now undesirable "spot" as his forever.
---
Detroit Pistons (2003)
WHO: Richard Hamilton
WHERE: The short corner
Name one time during Rip Hamilton's 14-year playing career that he attempted a jumper from the short corner and you didn't think, "that's water." You can't.
Hamilton (and Ray Allen) single-handedly re-defined the off-the-ball "baseline" jog. If Hamilton was on the floor, you better be prepared to never stop running as he could be found moving from corner to corner in hopes of getting an open look, parallel to the rim, from approximately 15 feet. If Rip got the ball in his spot on a catch-and-shoot, you might as well start running back to the other end mid-flight because for nearly 10 years this was as much of a sure thing as there was in the game of basketball.
---
Miami Heat (2006, 2012, 2013)
WHO: Dwyane Wade
WHERE: Left-side, free-throw extended LONG two
That hard dribble in from the 3-point line.
That half-spin with the ball fake.
That turn-around, slow-motion, step back, leg kick fade-a-way.
The game is on the line, you know it's coming, and you can't do anything to stop it. He's been making fools of defenders since his days growing up in Robbins, Ill.
Almost every noteworthy clutch shot throughout Wade's career comes from this notorious launching pad just inside the 3-point line.
Here's to you, obnoxious courtside Hornets fan -- thank you pouring jet fuel on the embers of what was believed to be a "fading" superstar.
----
Boston Celtics (2008)
WHO: Paul Pierce
WHERE: Right side, mid-post two
The Truth is: It didn't matter who was guarding him. LeBron, Wade, Kobe ... Antoine Walker trying to take the ball from him and score himself so he could shimmy -- all at one point fell victim to the old-school mid-post game of the clutch Paul Pierce.
The spot was money for Pierce -- there is even a compilation of him torturing his biggest foes from it:
It may not have been pretty, but it just always seemed to go in whenever he was playing your team and the game on the line.
---
Dallas Mavericks (2011)
WHO: Dirk Nowitzki
WHERE: Left side, mid-post two
A 7-foot center who is able to tomahawk a ball over his head while jumping off the wrong leg and encounter absolutely zero interference or chance of having the shot altered. Dirk's one-legged step-back was, is and forever will be the most-devastating, most-replicated finishing move of all-time -- and that includes the Stone Cold Stunner, The Rock Bottom, and The RKO.
It is so unguardable that almost every current NBA superstar has adopted the move for his own arsenal.
While the move has evolved so that it can be used on all parts of the court, this area was Dirk's office. You could double-team him, triple-team him … didn't matter … the ball was going in and barely touching the net on the way through as the icicles on the leather melted from the stratosphere it plummeted back down to Earth from.
---
Golden State Warriors (2015)
WHO: Steph Curry
WHERE: The Logo
He has not only broken every shooting record in the history book, he has re-broken his own history-setting records. He is the best shooter the game has ever seen, plain and simple. Of all the places outside the three-point line Steph has claimed as his, his heat-check three from the halfcourt logo is without a doubt his most patented.
Sometimes he shoots them because he has to.
Sometimes he just feels like it.
He is your cocky friend who takes five steps behind the beer pong table and shoots from an excessively obnoxious distance just to show off -- except Steph doesn't airball and blame it on a slippery ball, he actually makes them.
His ability to stretch the floor from this spot -- or at least between it and the 3-point line -- has revolutionized the game of basketball, building philosophies around stretching the floor and single-handedly endangering the "big man" species. If the NBA ever institutes a four-point line (halfcourt?) -- it will be because of Stephen Curry and his spot.
---
Cleveland Cavaliers (2016)
WHO: LeBron James
WHERE: The opposite lane
Do I even need to explain myself? Nah.
Thank you Uncle Jesse for this moment.
Thank you for making basketball players find their spot.