How South Dakota MMA went from the Wild West to the UFC coming to town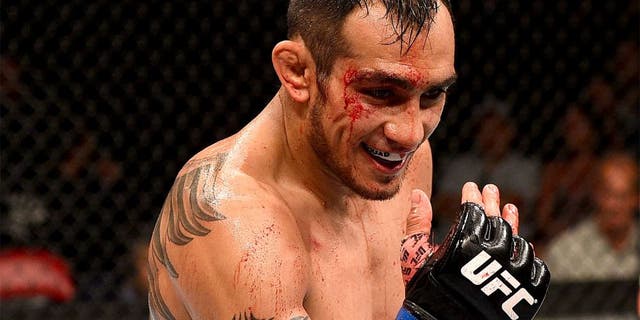 NEWYou can now listen to Fox News articles!
It was a little more than three years ago when a State House Representative in South Dakota named Steve Hickey wrote a vitriolic post with the tagline "MMA cage fighting is the child porn of sports".
The post was aimed at defeating a bill that would legalize the sport in South Dakota after events were being held in the state with no regulation and no safety protocols for the fighters.
MMA manager and prominent attorney David Martin, who works with fighters such as Luke Rockhold, Ryan Bader and C.B. Dollaway, was at the forefront of legalizing MMA in the state while working with state senators like Mark Johnston, who wanted to see the sport regulated rather than allow shows to go on without any oversight.
"Not having a commission in place or regulations, they were allowing any promoter with a pickup and a trailer with chained-link fence behind it to set up shop and throw fights because it wasn't regulated. It wasn't safe and in all reality it was an embarrassment," Martin told FOX Sports on Thursday.
"That's why South Dakota was kind of termed as the wild, wild west of mixed martial arts. Because these fights were just a guy coming off a barstool fighting a street fighter and it wasn't a sport. It was an embarrassment."
The real tragedy in the state happened in 2012 when 26-year-old amateur fighter Dustin Jenson died from injuries suffered in a bout in Rapids City. While the promoter of the event did provide medical personnel for the fight, none of the athletes was required to submit blood work, neurological X-rays or clearance as required by state athletic commissions.
The problem was so bad that at one point Sioux Falls decided to issue a ban on all MMA events within the city limits.
"At the time, being a manager based out of Sioux Falls, I agreed with that ban. Because what was happening wasn't a sport. It was unsafe. No medicals being done. We actually had a kid die out in Rapids City, South Dakota, and it wouldn't have happened if he had the necessary medicals," Martin said.
"By not having the commission in place to regulate the fights, it was just completely and utterly counterproductive."
Despite opposition from people like Rep. Hickey and even Governor Dennis Daugaard, the MMA bill eventually passed through both houses in South Dakota and the sport was legalized.
A commission was assembled and regulation was put in place for the proper licensing and safety conditions needed for an event to take place.
It wasn't long after that when Martin teamed up with noted MMA manager and promoter Ed Soares to bring Resurrection Fighting Alliance to South Dakota for a show. The state had plenty of fans who were clamoring for a big fight, and once the RFA showed up, it was clear that South Dakota was a real home for professional MMA.
"We fought hard and Senator Johnston was the lead in that and we got the athletic commission in place and they've been fantastic. I, by no means, wanted to promote fights, but I wanted to set the tone with the commission and with what fans in South Dakota should expect from fights, so I was contacted by good buddy Ed Soares and he got the first promoter's license and we did RFA fights," Martin said. "We just did our fourth fight and Dana White was there for 'Looking for a Fight' and it's been extremely successful."
The RFA show that took place in South Dakota just recently sold out a 4,200-seat arena in Sioux Falls, and now the UFC is scheduled to land in the city on Wednesday, July 13 at the Denny Sanford Premier Center.
"There's a lot of satisfaction involved. After we did these RFA fights in South Dakota, we did them at the Pentagon, which is a privately held building owned by Sanford (Health), and Sanford really stepped up and believed in what I was doing and have been fantastic. It's a medical company but they've really pushed Sanford Sports and they've done a lot for fighter safety," Martin said.
"We still had to overcome the city ban and the mayor was still very vocal against mixed martial arts fights taking place there. It was brought to the city council by Christine Erickson, who is the sister of Adam Vinatieri by the way, and she was great. She made the motion to lift the ban and the mayor was still very vocal about no mixed martial arts and if there was a tie, rest assured he was going to vote against it. We brought it to the city council and it passed to lift the ban 8-0. So we just got to where we can throw an event here within the last eight months."
The UFC coming to Sioux Falls is a major victory for all those involved to legalize the sport in South Dakota, but for Martin this is just the first step of a long journey.
Along with partners like Sanford Health as well as sponsors such as American Ethanol, who work with a slew of top UFC fighters, Martin hopes this inaugural UFC show is a launching pad to even more events coming to South Dakota.
"To see us come from the wild, wild west to putting an athletic commission in place to running one of the more successful regional shows in RFA with great talent on the card to now where we are today, it's unbelievable how far it's come along," Martin said.
"I said all along my goal was to get the UFC here and to see it happen is something else. It's happening even faster than we could have expected."
Since the sport was legalized, Martin said local lawmakers have been to shows and have been supportive of MMA in the state. It also helps that a great many athletes from South Dakota, including NBA star Mike Miller, have supported MMA in the state, plus fighters such as Brock Lesnar were born and raised there.
As far as the future goes, Martin hopes the first UFC card in Sioux Falls is a rousing success because he believes future cards in South Dakota could be even bigger.
Long term, Martin would like to see an event land during the annual Sturgis motorcycle rally, which is usually held during the first week of August and attracted more than 700,000 attendees in 2015 alone.
"The ultimate goal is Sturgis. Ultimately, I'd like to see a show in Sturgis," Martin said. "This is just the tip of the iceberg of what we're making for the sport in South Dakota. First things first, we need to have a well-attended show in July. I think the people in Sioux Falls understand the economic impact the UFC will have on the city."
Tickets for the inaugural show on Sioux Falls go on sale on Friday, with the event airing live on FS1 on Wednesday, July 13 from South Dakota.