How much longer will Mike Krzyzewski stay at Duke?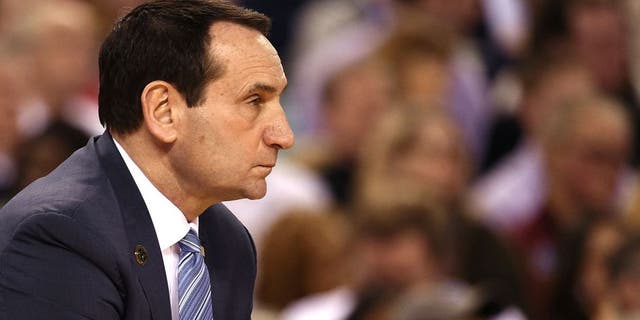 The clock is officially running on what will likely be the highest-profile coaching vacancy in college basketball history.
And though we don't know how many more years Mike Krzyzewski will be at Duke, we now can hear that faint ticking in the distance after Coach K told ESPN the 2016 Summer Olympics in Rio de Janeiro will be his last as head coach of the United States men's national team.
This news doesn't exactly come as a surprise. Coach K is 68 years old and will be 69 when he is coaching at the 2016 Games. If he were to stick around until the 2020 Summer Olympics in Tokyo, he'd be 73. What Coach K and Jerry Colangelo have built at USA Basketball -- two Olympic gold medals, two FIBA world championships, and, most important, a developmental pipeline that is the world's best -- is an enormous point of pride for Coach K. I believe that adding his USA basketball accomplishments to his five national titles and his record 1,018 wins over 40 years makes Coach K the greatest of all time -- yes, even greater than the Wizard of Westwood.
Of course, the best way to keep his USA Basketball resume growing long after he's retired is to have an orderly line of succession. That's what he's doing by announcing so far in advance that he'll step down as USA Basketball's head coach after the 2016 Games.
What does that have to do with Duke?
Nothing.
And everything.
This news is the first domino that will fall in what Coach K hopes will be an orderly succession not just at USA Basketball but also in Durham, the place he's built into one of the greatest college basketball powers of all time. Succession is of huge importance to Coach K. He runs Duke University, and you better believe he's going to have a huge say -- the only say? -- in who will occupy his seat alongside Coach K Court inside Cameron Indoor Stadium.
It's long been assumed that next in line for Coach K will be a Dukie. It could be Jeff Capel, the former Duke guard who was a Division I head coach for nine seasons and is now Coach K's associate head coach who has turned Duke into the nation's top recruiting program outside of Kentucky.
It could be Chris Collins, the former Duke guard who has a real shot this year at taking Northwestern to its first-ever NCAA tournament in his third year as head coach.
It could be Steve Wojciechowski, the former Duke guard who in his second year at the helm at Marquette has reined in one of the best recruiting classes in the nation.
It could be Tommy Amaker, the former Duke guard who has taken Harvard to four straight NCAA tournaments.
My guess is it's one of those four. Capel has been Coach K's right-hand man the past five years. The other three are all coaching at places that seem prime finishing schools for the next Duke coach: Elite private universities that take athletics as seriously as academics. Mike Brey at Notre Dame could fit that bill too, although at age 56 he might not be the youthful face Duke needs as Coach K's successor.
I suppose it could be a wild card: Someone like Bobby Hurley, the Duke legend whose two years of success at Buffalo led him to take the Arizona State job this offseason. It could be a coach with a proven track record at a basketball school -- Jay Wright at Villanova, Mark Few at Gonzaga, Sean Miller at Arizona -- or one of the hot young coaching minds out there, like Shaka Smart at Texas, or Archie Miller at Dayton, or Tony Bennett at Virginia.
I doubt that. The two key points on a resume for the next Duke head coach are likely this: "former Duke guard" and "former Krzyzewski assistant."
A Coach K disciple recently told me that it wouldn't shock him if Coach K is still coaching at Duke as long as the 75-year-old Larry Brown has been coaching. I doubt that. The news about Coach K stepping down from USA Basketball after the 2016 Summer Olympics isn't news of a king abruptly abdicating his throne. It is a predictable first step in what will be an orderly succession plan for the greatest coach this game has ever seen. He can't coach forever, but he will coach until the time is right. The time will be right when he has determined which of his progeny is best suited for the impossibly high-pressure job of taking over his throne. The time will be right when Coach K can name his own successor and avoid the drama of a drawn-out coaching search.
The time isn't now. But it's coming, and sooner than you'd ever imagine.
Email Reid Forgrave at reidforgrave@gmail.com, or follow him on Twitter @reidforgrave.