How low can they go? U.S. men's soccer team enduring a historic streak of wretched play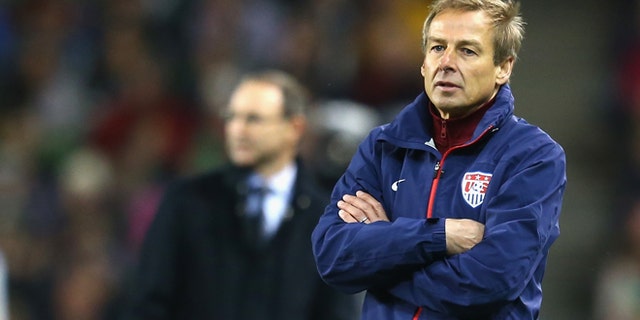 It can't keep going on like this for the U.S. men's national team, can it?
Entering Sunday afternoon's friendly against Panama at the StubHub Center in Carson, Calif., the Americans have won only once in their last nine games, going back to their second match of the World Cup last summer. In that span, they're an abysmal 1-4-4.
An incredible skid unprecedented for Team USA in recent years.
Moreover, the USA has squandered leads seven times in those games, seeing wins turn into ties and draws transform into losses.
Blame it on whatever you want: Post-World Cup doldrums; experimenting with new players and new formations; players not being game fit.
Whatever the cause, the U.S. national team appears to have hit rock bottom – only failing to qualify for a World Cup would make things worse.
Probably better now than in July, when the CONCACAF Gold Cup takes place, or in October, when the Americans begin their World Cup qualifying run for Russia 2018.
Former U.S. international goalkeeper Tony Meola has been through it all with the national team, backstopping them in two World Cups and 100 appearances in a 14-year professional career that included an MLS Cup championship with Kansas City in 2000. Meola believes at least part of the problem is mental.
"To me, winning is an attitude," he told Fox News Latino earlier this week. "Losing sometimes becomes an attitude. You want to stay away from that. You want to believe you can close out games. I think it maybe it started to creep in a little bit in the mindset that you kind of get that 'Here we go again feeling.' That's at least the feeling I get when we talk to U.S. national team fans. You hope it doesn't creep into the the locker room."
Perhaps something else has made its way into the players' minds – information overload.
"I just keep reading so much stuff about where we need to go and where we want to change," Meola said. "Sometimes it's information overload. Guys just want to play. With that is closing out games. They have not done a good job of that. It's a matter of being concentrated, understanding of times of games and where you can do things and making plays in the end. Far too often they have lost games late."
Seared into the mind of many U.S. soccer fans is the Jan. 28 debacle in Chile, in which the Americans lost not one, but two leads to the World Cup quarterfinalists, allowing two second-half goals within a 9-minute span en route to a 3-2 defeat.
U.S. coach Jürgen Klinsmann blamed it on the fact that many players based in Major League Soccer teams were not game-fit due to the league's long offseason.
Klinsmann, who wasn't taking into consideration all the other late meltdowns during and since the World Cup, decided to experiment with a 3-5-2 formation, only to scrap it at halftime. That sort of chaos certainly does not help matters.
"We heard about this experiment ... about this 3-5-2 we were going to [use]," Meola said. "I think everyone kind of bought into it. 'OK, let's see how it goes, and let it roll a bit.' And then 45 minutes into it, we're out of the experiment already. I'm not quite sure we learned anything."
Meola added, "I would have gone the whole game and lost 4-2 just to ... figure out what needs to be done."
John Harkes, another former U.S. international who played in two World Cups, won two MLS Cup titles and had a 14-year pro career, was just as perplexed that Klinsmann called over defender-midfielder DeAndre Yedlin for the game, even though the former Seattle Sounder was just getting settled at his new Premier League club, Tottenham.
"I just don't get that," Harkes said. "Some of those decisions, you scratch your head."
He also felt that Klinsmann has made matters worse by repeatedly criticizing his players publicly. Sometimes it is better for team to follow the Vegas rule: Whatever is said in a locker room, stays in a locker room.
"To do it in the newspaper, I don't necessary agree with that," Harkes said, adding that "Jürgen is entitled to do that. He has to continue to be a leader. He has to work hard not to separate himself from the players."
No doubt Klinsmann has such a strong personality that sometimes media and fans focus on the coach and not the players.
"When I hear the national team is together. everything that goes around the national team is about players," Meola said. "I feel the lead-up to the national team games and post-game, it's about Jürgen Klinsmann and what we've changed and who didn't play.... To me it's always about players. It always will be about players. You hear so much about what Jürgen Klinsmann is doing, i want to hear more about what the players are doing. i want to hear from them.
"I don't know if we have the outlet for those guys to express themselves. It seems sometimes it gets away from them. When Bob [Bradley] was coach, you really didn't hear about Bob until you lost the game. And Bruce Arena [another former coach] was the biggest advocate. 'It's not about me, its about the players. It's not about me.' I think that sometimes we get lost understanding. We're worried about what Jürgen wants to do, Hopefully, we get into the [CONCACAF] Gold Cup, qualifying, Copa America next year, all that stuff. That's what it's going to be all about."
Despite the criticism, both Meola and Harkes felt this team has too much talent not to pull out of its recent doldrums.
"I want to be clear," Meola said. "I believe we have the players. I want to focus on them. I want to know what they're doing and what their thoughts are and all that stuff. Clint Dempsey to me was at his best when he was expressing himself all the time... That's when Clint Demspey was the best. Michael Bradley is always best when he had that tough face about him, when you knew he was engaged in the game."
He added, "They all got picked for a reason. they did something they got there that made them good. I don't think we're nearly as far away as people sometimes paint the picture.... We're so far away from qualifying and all new faces and all that. You can make the same argument that other countries are dealing with the same thing."
Harkes agreed, adding that the recent habit of blowing leads should soon be in the past.
"I don't think it's a concern," he said. "They're going to work through it, and they're going to be fine."
A glimpse of how fine – or grim – it may be for the USA will come Sunday against Panama.
Like us on Facebook
Follow us on Twitter & Instagram