How does the Copa América Centenario draw work?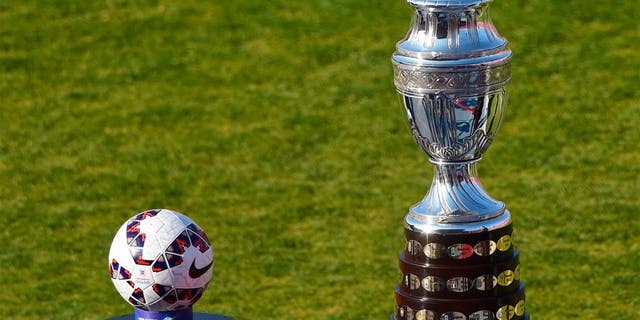 Consider the draw for the Copa América Centenario on Sunday as a spectacle first and foremost.
There's a reason why they hold these events in famous venues (Hammerstein Ballroom) in big cities (New York) and show them on television (live, 8:00p.m. ET, FS2, FOX Sports GO).
There is inherent drama to sorting out where teams are placed in a tournament, even if the top seeds are already determined and the pots are already laid out. The process takes a little bit of time and it determines the fate of teams hoping to advance into the latter stages of the competition.
Expect plenty of intrigue as the proceedings unfold. Part of the tension stems from the draw itself. Let's take a look at how everything is poised to unfold on Sunday night.
There are two sets of pots: One for teams, one for groups
Copa América Centenario organizers opted to use a double-blind system to determine the placement of teams in their groups.
The system -- which is standard in these sorts of draws -- creates two sets of pots: one for the teams, one for the groups.
-

The top four seeds are placed in their respective groups
In a decision made in December, tournament organizers named Argentina, Brazil, Mexico and the United States as the top four seeds and assigned them to specific groups prior to the draw.
The remaining teams are drawn and assigned to their groups -- in backwards order
After the top seeds are officially placed into their groups, the draw will move in reverse order from Pot 4 (the lowest seeded CONMEBOL teams) through Pot 2 (the highest seeded CONMEBOL teams).
The procedure is fairly simple: a team is picked out of one of the team pots, and then a group assignment is picked out of the group seeding pots.

Take Pot 4 for example. Let's say Bolivia is the first team chosen out of Pot 4. Once Bolivia is picked, then the next step is to draw their group assignment from Pot 8. Bolivia then slots into one of the four groups and the process continues until all the teams in Pot 4 have their group assignments.
Once the draw is complete, the teams learn their group stage schedules
Tournament organizers created the master group stage schedule in December. Once all of the teams are drawn, then they will know the location and the order of their three group matches.
For the top four teams, their itineraries are already settled:
And the rest of the teams are all square once the draw ends. There is nothing left to sort out. It is simply time to continue with the preparations ahead of the tournament opener on June 3.