How Connor Cook is making his case to be the No. 1 QB in the country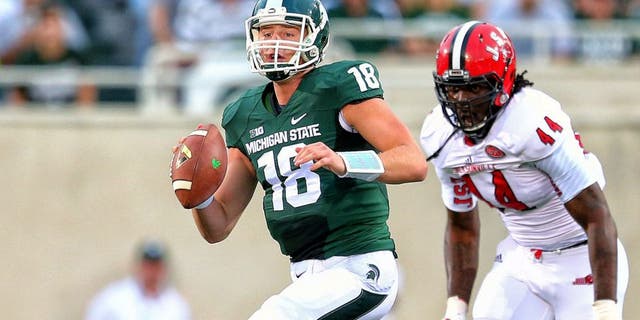 Connor Cook is working on a historic senior season. Mike Carter USA Today Sports
Anyone who has watched Michigan State in recent games might have wondered if he was playing at an even higher level than usual.
Pro Football Focus provides evidence that has in fact been the case.
Cook threw for a career-high 398 yards last week in a win over Indiana, his third straight 300-yard passing day.
The run started Oct. 10 with 367 yards at Rutgers and continued Oct. 17 with 328 yards at Michigan.
While the Hoosiers and Scarlet Knights have secondaries among the worst in the country, Michigan's is statistically the best, at least in terms of efficiency.
Cook's PFF grade of 22.3 is the best in the country in that stretch, and he is benefitting from fellow senior Aaron Burbridge playing at a very high level at wide receiver.
As far as traditional stats, Cook is 18th nationally in passing yards (2,070) and 37th in efficiency through all games this season.