How Carlos Carraso pitched his way into ace status for the Indians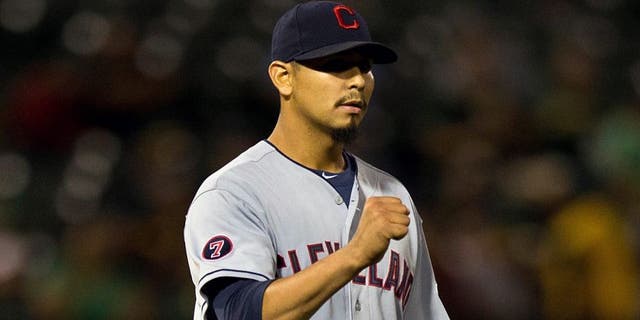 Carlos Carrasco is the ace, if not of the Cleveland Indians then at least of the PITCHf/x leaderboards we maintain at Baseball Prospectus. After years of inconsistent development and injury trouble, Carrasco has emerged in the past year and a half as one of the league's most dynamic starters. His raw stuff is impressive, but the fun thing is that he gets more interesting (and more impressive) every time you turn over his numbers and examine them from a new angle.
The first thing that jumps out, in perusing Carrasco's profile, is the depth of his arsenal. He has five distinct pitches: a four-seam fastball, a sinker, a slider, a changeup and a curveball. Each has a distinct role in his approach to opposing hitters, and notably, he threw each with some substantial frequency in 2015. His curve, the least vital weapon in his repertoire, still made up nearly eight percent of the pitches he threw last season, and batters who fell behind in the count against Carrasco (the poor souls) saw the pitch almost twice that often.
That highlights one of the first remarkable strengths of Carrasco's repertoire: He has (not one, but) three offspeed out pitches. That curveball is one of the league's nastiest. Of the 90 pitchers who threw at least 200 hooks in 2015 (a threshold, admittedly, Carrasco narrowly cleared), Carrasco ranked fourth in average velocity (84.1 miles per hour), second in opponent swing rate (54.8 percent), and first in those opponents' whiff rate on those swings (51.7 percent). His slider (much more of a bread-and-butter offering for him) is similarly superlative. Eighty-seven hurlers threw at least 200 sliders last year, and Carrasco's ranked fifth in velocity, 11th in swing rate, and fourth in whiff rate.
His changeup was more of a situational offering, saved in large part for left-handed batters, but while the overall numbers on that pitch are less gaudy, one fascinating thing happened as counts progressed. With no strikes on opposing batters (a situation in which he threw the pitch somewhat sparingly, anyway), Carrasco induced a whiff rate of 26.3 percent on the change. With one strike, that rate jumped to 35.4 percent, and improbably, it climbed again with two strikes, to 35.7 percent. Even isolating left-handed hitters, who were twice as likely to see the pitch in those counts, a third of two-strike swings at that offering came up empty.
It's hard to achieve a higher whiff rate on pitches as the number of strikes on a batter increases. Despite the league-wide spike in strikeout rate and the frequent assertion that hitters aren't thinking defensively enough, most batters do maintain a two-strike approach predicated on making contact at a higher rate. Carrasco's shocking depth of options, though, keeps hitters badly off balance, even in counts wherein most pitchers become more predictable. The fact that he throws his slider a quarter of the time with two strikes on lefty batters is a perfect example: Few pitchers have the confidence to throw their slider so aggressively against opposite-handed batters.
Then there's that sinker, a weapon Carrasco deploys in fascinating ways. The pitch is another widow-maker. Of the 143 pitchers who threw at least 200 sinkers last year, Carrasco threw the 14th-fastest, got the fourth-highest swing rate, missed opponents' bats at the second-best rate, and got the fourth-highest rate of groundballs when batters did put it in play. The sinker, too, got more whiff-tastic as the counts got deeper: Batters swung and missed 16 percent of the time with no strikes, 21.5 percent of the time with one strike, and 22.1 percent of the time with two strikes. Carrasco used the pitch differently based on batter handedness, too, despite throwing the pitch 15 percent of the time to batters from each side. With lefties, the pitch was a get-ahead or catch-up offering, a fastball he was confident in throwing for strikes, but that he knew hitters wouldn't square up and smash. (His 73-percent groundball rate on the pitch really is remarkable, and explains his confidence in it.) Against righties, the sinker was more of an all-purpose tool, spread evenly across all counts.
All of those pitches, of course, work in support of Carrasco's four-seamer. It's not the league's most dominant heater, but he throws it an average of 95.7 miles per hour, good for 16th-best among the 116 pitchers who threw at least 500 such pitches. (Carrasco threw his over 1,100 times.) There's one other interesting thing: Opponents fouled off that fastball at a staggering rate in 2015. In fact, Carrasco's 51.6-percent foul rate on opponents' swings was the third-highest for any four-seam fastball in the league, trailing only Jake Peavy and Ryan Vogelsong of the Giants.
That's not necessarily a good thing: Carrasco had a below-average whiff rate on his heater, so he was probably allowing batters to stay in counts by fouling off pitches he might have hoped they would miss altogether. Indeed, unlike on those other pitches, Carrasco's whiff rate on opponents' swings at his fastball didn't rise with two strikes. While his other four pitches dominated opponents, Carrasco surrendered a .310 batting average and .531 slugging average on his four-seamer in 2015. He might consider throwing the sinker more, at the four-seamer's expense, this season. On the other hand, given the sheer velocity he has and the liveliness of most of his stuff, he could be just one adjustment from possessing a killer fastball, and ascending to the next level of performance.
All of this permitted Carrasco to fan 29.6 percent of opposing batters in 2015, a rate that trailed (among starters) only Clayton Kershaw, Chris Sale and Max Scherzer. Carrasco doesn't have the command of those hurlers (not yet, anyway), and he's not a workhorse of their caliber. But with such a wide array of pitches that can all beat hitters in different ways, he's just a little more consistency and durability from being in their class.