Houston Texans owner makes second apology for 'inmates running the prison' remark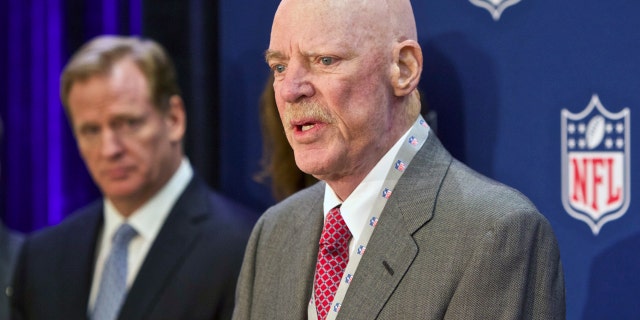 Houston Texans owner Bob McNair reportedly met with the team Saturday morning and apologized for his comments that "we can't have the inmates running the prison" during a meeting of NFL owners about players who protest by kneeling during the national anthem.
McNair's remarks caused a firestorm of criticism from athletes inside and outside the NFL and prompted an initial apology from the 79-year-old Friday.
"I know they were upset," McNair told the Houston Chronicle about his meeting with the players. "I wanted to answer their questions. I told them if I had it to do over again I wouldn't use that expression."
Two Texans players, star wide receiver DeAndre Hopkins and running back D'Onta Foreman, left the team's Friday practice after McNair's remarks were initially made public. The Chronicle reported that every player on the team was planning to make the trip to Seattle for the Texans' game against the Seahawks.
"We decided to go to work," offensive tackle Duane Brown told the Chronicle Saturday. "The situation's not over. It's something that we'll reconvene and talk about again, but we had practice."
McNair released a second statement Saturday afternoon and insisted he wasn't referring to the players with his "very regretful comment." Instead he says he was "referring to the relationship between the league office and team owners and how they have been making significant strategic decisions affecting our league without adequate input from ownership over the past few years."
He then apologized to NFL players saying: "I am truly sorry to the players for how this has impacted them and the perception that it has created of me which could not be further from the truth. Our focus going forward, personally and as an organization, will be towards making meaningful progress regarding the social issues that mean so much to our players and our community."
The comment was published in an ESPN The Magazine story about two recent days of meetings among owners, players and others to discuss the protests that have drawn the ire of President Donald Trump. Players, following the lead of former NFL quarterback Colin Kaepernick, say they kneel to protest social injustices, particularly against African-Americans. Trump has sharply criticized the protests and even called on NFL owners to fire players.
The meetings earlier this month did not result in a policy change that would require players to stand for the anthem. Owners and players are expected to meet again next week to discuss initiatives.
The Associated Press contributed to this report.