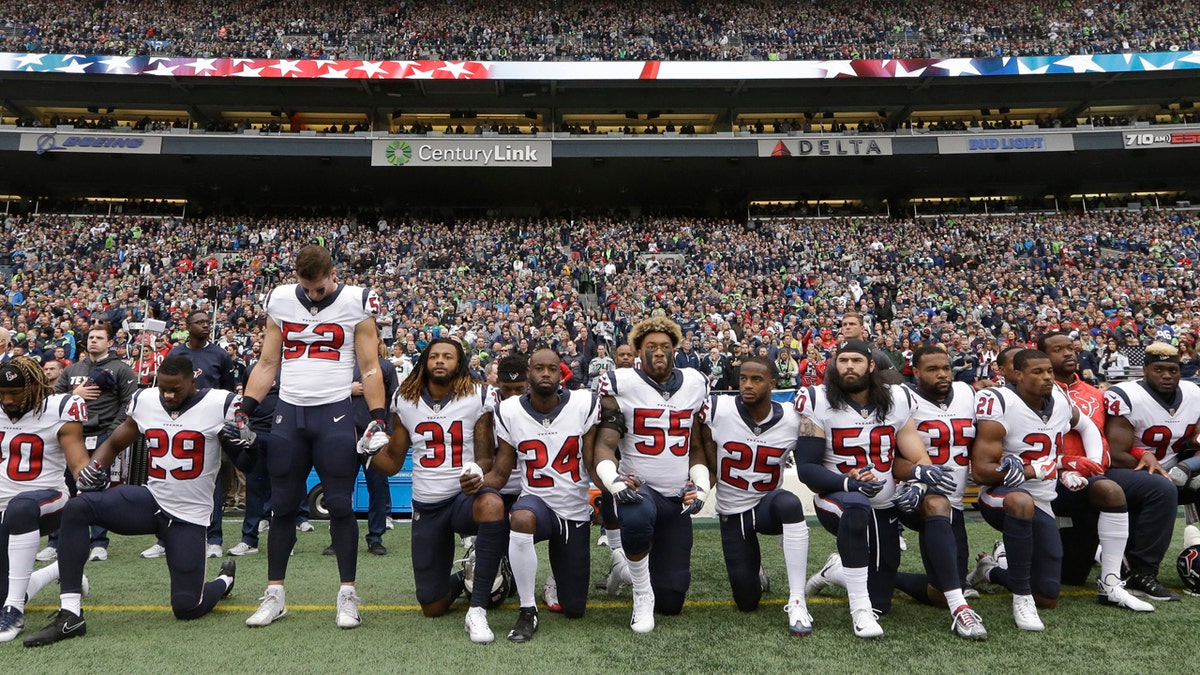 A majority of Houston Texans players took a knee Sunday during the national anthem ahead of their game against the Seattle Seahawks in protest against controversial remarks made by the team's owner.
Texans owner Bob McNair had met with the team Saturday morning and apologized for his previous comments that "we can't have the inmates running the prison" during a meeting of NFL owners.
Even after the meeting with McNair, the Texans held a players meeting in Seattle to decide how to game the game Sunday, ESPN reported, citing a league source.
HOUSTON TEXANS OWNER MAKES SECOND APOLOGY FOR 'INMATES RUNNING THE PRISON' REMARK
Texans left tackle Duane Brown told ESPN he anticipates "up to 65 to 70 percent" of the team's players could kneel as part of the protest in Seattle, adding the players would not remove the team's decals from their helmets as had been discussed.
McNair's remarks caused a firestorm of criticism from athletes inside and outside the NFL and prompted an initial apology from the 79-year-old Friday.
"I know they were upset," McNair told the Houston Chronicle about his meeting with the players. "I wanted to answer their questions. I told them if I had it to do over again I wouldn't use that expression."
NFL PLAYERS SEEK MEETING WITH GOODELL, MCNAIR, KAEPERNICK
The comment was published in an ESPN The Magazine story about two recent days of meetings among owners, players and others to discuss the protests that have drawn the ire of President Donald Trump.
Players, following the lead of former NFL quarterback Colin Kaepernick, say they kneel to protest social injustices, particularly against African-Americans. Trump has sharply criticized the protests and even called on NFL owners to fire players.
The meetings earlier this month did not result in a policy change that would require players to stand for the anthem. Owners and players are expected to meet again next week to discuss initiatives.
The Associated Press contributed to this report.