Houston Texans at Jacksonville Jaguars game preview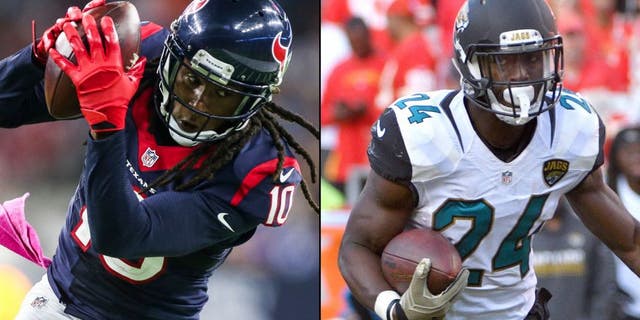 NEWYou can now listen to Fox News articles!
JACKSONVILLE, Fla. (AP) -- The Houston Texans have been dreadful on the road this season, losing lopsided games at New England, Minnesota and Denver.
Coach Bill O'Brien's team found the end zone just once in those cities, getting outscored by a combined 64 points.
The Texans (5-3) probably need to reverse the trend to stay on top in the watered-down AFC South. It should help playing at Jacksonville, where the Jaguars (2-6) are 0-3 at home in 2016.
This much is certain: One of them will end a streak Sunday.
"You got to put the bad games behind you and move on," Texans receiver DeAndre Hopkins said.
Houston plays four of its next five away from home, so finding better road results could be huge in the second half of the season. Players and coaches believe getting off to quicker starts would help.
The Texans trailed 10-0 in the first half against the Patriots, 24-0 against the Vikings, and 14-6 against the Broncos. Left tackle Duane Brown said the team needs to "bring a lot of energy" to change its fortunes.
"I think that's been our kind of Achilles' heel this season," Brown said. "I think having energy and starting fast, everything else will fall into place. I think the execution will fall into place and just keeping it going, you know, for four quarters."
The Jaguars have gotten little going at home this season. Although they dropped close games to Green Bay and Baltimore in September, they were blown out 33-16 by Oakland in their lone game at EverBank Field since. They return Sunday having lost three consecutive games and face mounting speculation about coach Gus Bradley's job security. Bradley is 14-42 in 3 seasons in Jacksonville and has fallen well short of expectations this year.
Bradley fired offensive coordinator Greg Olson on Oct. 29, and the team responded with a better performance at Kansas City last week. The Chiefs won 19-14, thanks mostly to Jacksonville's four turnovers and several missed opportunities.
Few teams could use a victory as badly as Bradley and the Jaguars, especially at home.
"If we're going to get this turned around, it needs to start now," tight end Marcedes Lewis said. "We're capable of getting on a roll, but the only way to do that is to get that first one and go from there."
Here are some other things to know about the Texans and Jaguars:
OPENING DRIVE
The Jaguars haven't scored a touchdown on their opening drive since Week 2 of last season. The 22-game stretch without an opening-possession TD is the longest in the NFL.
MILLER'S HEALTH
Houston RB Lamar Miller (bruised shoulder) is feeling better following the team's bye week. Miller, who ranks seventh in the NFL with 637 yards rushing, hopes to be back to full strength against the Jaguars. "I'm just getting a lot of treatment right now," he said. "Just trying to get better." If not, Alfred Blue would fill in again. Blue has 104 yards rushing in Houston's last two games.
TURNOVER DROUGHT
Jacksonville hasn't forced or even lucked into a turnover in nearly five games. The drought, which stands at more than 289 minutes of game time, should have ended last week at Kansas City, but defensive backs Prince Amukamara and Tashaun Gipson collided while trying to catch a badly overthrown ball. The Jags have a league-low five takeaways, partly because they trail in most games and lack a consistent pass rush. "I think they're itching for a takeaway," defensive coordinator Todd Wash said. "But at the same time, we can't press."
CLOWNEY'S IMPACT
Texans DE Jadeveon Clowney is having the best year of his short career after struggling to contribute in his first two injury-plagued seasons. The top overall pick in the 2014 draft is sixth in the NFL with a career-high nine tackles for losses. He also has three sacks, 30 tackles and 10 quarterback hurries. "It's really cool to see him now, I mean, as far as playing the run, the pass, his effort, and he's really coming into his own," Jaguars coach Gus Bradley said.
FAIR CATCH?
After three fumbled punts in as many games, the Jaguars are expected to go back to receiver Rashad Greene as the return man Sunday. Greene was inactive the last two games. Greene, Marqise Lee and Bryan Walters each fumbled punts in the last three games. "We're looking at everything," Bradley said. "I think it's good to have competition within, but probably have a pretty good idea the way we're going to go."