Houston punter Lechler wins bet by hitting Dallas video board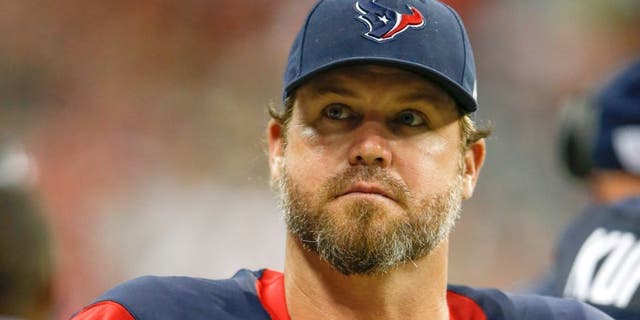 NEWYou can now listen to Fox News articles!
Houston Texans punter Shane Lechler used Thursday night's preseason game against the Dallas Cowboys to take part in a friendly wager among teammates.
During the fourth quarter, Lechler boomed a punt that hit the massive HD board that hangs over the field in AT&T Stadium. In doing so, he became the third punter to accomplish the feat and stands to eat well for a while because of it.
"I think I'm going to win multiple dinners," Lechler said, per the the Ft. Worth-Star Telegram. "I had a little wager going with some guys. I hit it twice in warm ups. I felt good about hitting it on that punt -- but not good enough to tell everybody not to run down the field. That's the first time I've had a do-over for hitting a scoreboard."
By virtue of hitting the bottom of the HD board, which hangs 90 feet above the field, the 16-year veteran was forced to re-kick. NFL rules state any punt that hits the HD board results in dead ball, with the clock being reset and the ball placed back at the original line of scrimmage.
Lechler joins former Tennessee Titans punter A.J. Trapasso and Cowboys punter Chris Jones as the only players to hit the video board.
(h/t Ft. Worth Star-Telegram)

Read more here: http://www.star-telegram.com/sports/nfl/dallas-cowboys/cowboys-corner-blog/article33908895.html#storylink=cpy