Hot Tribe bats racking up runs during six-game winning streak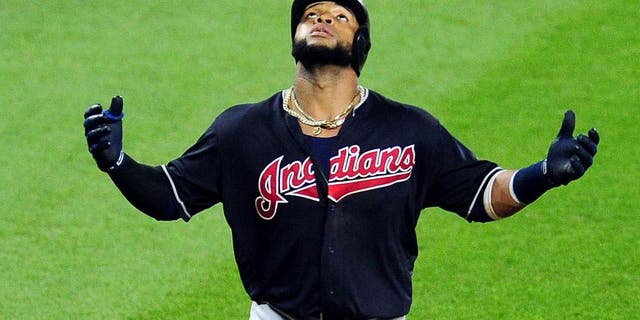 NEWYou can now listen to Fox News articles!
BALTIMORE -- The Baltimore Orioles are hoping Chris Tillman can turn things around and break his five-game losing streak and stop the six-game winning streak of the Cleveland Indians when the teams meet Tuesday.
Coverage begins at 6:30 p.m. on SportsTime Ohio
Tillman (1-5, 8.07 ERA) lost his last five starts and still is trying to find the form that made him a top pitcher in 2016. He did not make a start until May 7 due to shoulder bursitis and won the first outing, but he has struggled since.
The Orioles (34-35) were counting on Tillman to be their number one starter this season. But Tillman has allowed 28 runs and 40 hits in 20 1/3 innings during this skid.
Tillman allowed nine runs and seven hits in 1 1/3 innings June 10 in New York,. and on Thursday, he allowed five runs and 11 hits in 5 1/3 innings.
"Chris has a good track record and he's going to pitch better and hopefully today's the start of that," Orioles manager Buck Showalter said after that game. "They made him earn everything. He gave us a chance, we're just not scoring any runs."
Tillman is 5-2 with a 4.17 ERA in eight career starts against the Indians and is looking to help the Orioles turn it around on the mound. Baltimore is 3-9 in its last 12 games and has allowed double-digit runs five times.
Josh Tomlin (4-8, 5.83 ERA) starts for the Indians and also hopes for some improvement. He is just 1-3 with a 4.88 ERA in road games this season.
But the team's offense has given the pitchers plenty of support in recent days, scoring 52 runs during the six-game winning streak.
Tomlin picked up the win Thursday when he allowed four runs and seven hits in five innings of a 12-5 win over the Los Angeles Dodgers. He has allowed eight runs and 16 hits in 7 2/3 innings in his last two outings.
Tomlin is 3-3 with a 5.19 ERA in seven appearances (six starts) against the Orioles in his career.
The Orioles have struggled in recent games due to injury problems that worsened this weekend when shortstop J.J. Hardy was hit by a pitch in the win over the Cardinals on Sunday.
Hardy and the Orioles confirmed Monday that he has a broken right wrist that will sideline him four to six weeks.
The Orioles selected the contract of infielder Paul Janish to take Hardy's roster spot. Showalter said that recently acquired Ruben Tejada will receive a long look at shortstop.
However, the Orioles did get some good news on the injury front as right-hander Darren O'Day threw well in a bullpen session Monday. Showalter said O'Day will pitch in a simulated-game situation Wednesday, and if he feels right, the team could activate him Friday.
Also, closer Zach Britton, out since early May with a left forearm strain, will make his first rehab effort Tuesday in Aberdeen, about 35 miles from Camden Yards. He was scheduled to pitch Monday but the rain changed the plans.
Showalter said he will not complain about all the injuries.
"Everybody's got their tale of woe, it they want to have that," Showalter said. "It's part of life. You've got to deal with it."
The Indians put left fielder Michael Brantley on the disabled list Monday due to a sprained right ankle. He missed the last four games as his wife had a baby last Thursday.
Jose Ramirez won American League Player of the Week honors on Monday after hitting .516 with eight doubles, three homers and seven RBIs last week.
"I just try to focus on what I'm doing well and continuing to do that and working hard," Ramirez said through an interpreter.
Ramirez went 3-for-6 in the 12-0 rout of the Orioles Monday in the first game of this series, including two doubles. He now has hit doubles in seven straight games, a team record.
That has been the way Cleveland has operated in the past few years. Manager Terry Francona said he is not exactly sure why this is happening but likes seeing the Indians playing better.
"Typically, the last five years, we've played better in the second half," Francona said. "I don't think you can just hang your hat that that's going to happen every year, but I think we feel like once you find your traction, rhythm, (it's good). It's taken us a while to find this year's team."