Hornish, Dillon prepare for battle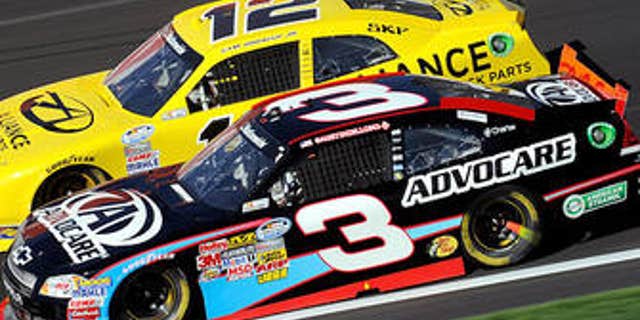 As the season winds down, much of the focus in NASCAR is understandably on the championship battle in the Sprint Cup Series. The Chase has tightened up after Jimmie Johnson's win at Dover, with Matt Kenseth out front and Kyle Busch still close by in third.
However, the Sprint Cup Series isn't the only place to find a compelling and contentious title fight. In the Nationwide Series, Austin Dillon has cut Sam Hornish Jr.'s points lead to just four points with only five races left in the season.
While Joey Logano was dominating last weekend's race at Dover where pit strategy ran wild, Hornish fought an ill-handling car. To make matters worse, Hornish was hit with a pit road speeding penalty late in the race and only managed to work his way back to 17th.
As Hornish was struggling, Dillon was having a solid but quiet day. Although he finished one lap down and did not lead a lap, the Richard Childress Racing driver finished sixth and took a large chunk out of Hornish's points lead.
Looking for his first Nationwide Series title before likely making the move to the Sprint Cup Series in 2014, Dillon knows it is going to take top five finishes to beat Hornish.
"I think you need to finish in the top three consistently," Dillon said. "Sam Hornish Jr. and I are both really competitive, and in order to win the championship, the No. 3 team is going to have to finish ahead of him every weekend."
For much of the season, Hornish has been the class of the field. With one win, 13 top fives and 21 top 10s, the Penske Racing driver has finished outside the top 10 only seven times, one of which came last Saturday at Dover.
"If we would have lived up to our potential (at Dover) I would feel a lot better about (the points situation)," Hornish said, "but I know that we've got five races to go and we go to some tracks that I really like -- Texas, Phoenix, Miami (Homestead), Charlotte -- so I'm really excited about what we've got there."
Although Hornish is eager to get to the next five tracks, so is Dillon. Looking at the stats, Dillon has out-performed Hornish at three of the next five tracks, with the exception of Charlotte and Homestead.
Dillon was second at Kansas last season. Earlier in the season, he won the pole at Charlotte, was third at Texas and sixth at Phoenix. In the same span, Hornish was ninth at Kansas last year, 12th at Charlotte, 34th at Texas and seventh at Phoenix.
While stats might be a good indicator of future success, they might not tell the entire story of this championship battle. These two drivers are at much different stages of their racing careers, and both appear to be at a crossroads.
Hornish is a former Indianapolis 500 winner, three-time IndyCar champion, and has 130 Sprint Cup Series starts under his belt. However, despite his lead in the Nationwide standings and the potential of his first NASCAR championship just five races away, Hornish does not have a contract for the 2014 season. Will that uncertainty, especially this late in the year, have any impact on his performance? Only one person truly knows the answer to that question.
Dillon, on the other hand, is a 23-year-old with family pedigree and money on his side. The grandson of team owner Richard Childress, it is widely believed Dillon will move to the Sprint Cup Series for Richard Childress Racing for the 2014 season. With a Camping World Truck Series championship already under his belt, Dillon is eager to add another title to his list before moving on.
Which driver will prevail? The veteran looking to show he can not only still win races, but also championships, and possibly woo a Sprint Cup Series team owner? Or the young, up-and-coming driver with a strong history but an even brighter future?
This much is certain: The battle for the Nationwide Series title is one worth watching over the next five races. Each lap, each position, each call atop the pit box will go a long way in determining who will be hoisting the trophy in Homestead, and who will be answering questions on why he didn't get it done.