Honduras' Arnold Peralta shot to death outside hometown mall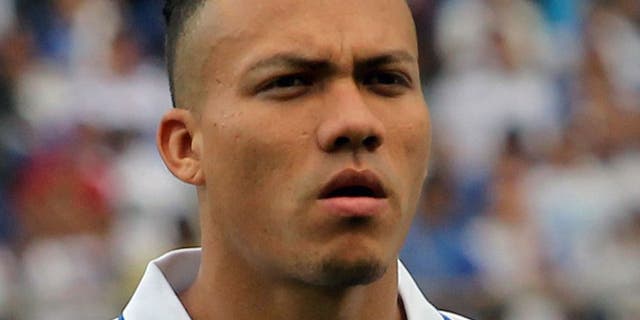 TEGUCIGALPA, Honduras --
Honduras national team midfielder Arnold Peralta was shot to death Thursday in a shopping mall parking lot in his hometown of La Ceiba on the country's Caribbean coast, police said.
In a statement, police said Peralta was killed outside the Uniplaza mall. He was in his hometown on vacation following the conclusion of his professional club's season.
Police said no suspects were in custody and the motive for the attack was unknown. In a second statement later, officials ruled out robbery as a possible motive. The country is plagued by gang violence and has one of the world's highest homicide rates.
"We don't have more details about the crime, but we've put up checkpoints in the entrances and exits of the city to be able to carry out the investigation and get the people who did this crime and respond to society's demand," a police spokesman told reporters.
The player's father, Carlos Peralta, confirmed the death at a news conference. ''This is terrible. They killed my exemplary son. I can't say more because of the pain I feel.''
Osman Madrid, director of Honduras' national soccer federation, said, ''This is a tragic death that the national sport mourns.''
Peralta, a 26-year-old midfielder, joined Club Deportivo Olimpia in the Honduran national soccer league this year. Olimpia was eliminated from the league's semifinal last weekend by its archrival, Motagua.
The soccer club expressed its condolences through its official Twitter account.
"We express our heavy sorrow to the family members of our dear Arnold Peralta," Olimpia president Jose Rafael Ferrari wrote on his own Twitter account. "Great person and extraordinary Olimpia player.
Peralta had been scheduled to play in the national team's friendly match against Cuba next week. In his professional career, he previously played for the Rangers Football Club in Scotland and Club Deportivo Vida in Honduras.
He represented Honduras at the 2014 World Cup in Brazil and the 2012 Olympic Games in London. He was captain of Honduras' sub-20 national team.
Many of his international teammates also wrote messages of sorrow. "Rest in peace, brother. God receives you in heaven, you will stay in our hearts," Boniek Garcia wrote. "Strength to the family."
Mario Martinez wrote, "It can't be, I can't believe it. Why God? My brother, my dog. Rest in peace, my brother. We were always together from the youth national teams to the senior team. I will always remember you."
Peralta's career started with Honduran club Vida, where he excelled as a hard-nosed central midfielder. He had interest from MLS clubs but stayed in his native country until accepting an offer from Scottish club Rangers. He struggled to find a place on the field in Glasgow, making just more than 20 appearances over two years. Peralta returned to Honduras with Olimpia after being released from his contract at the beginning of this year.
At the beginning of the day, Peralta was named to Jorge Luis Pinto's Honduras side to face Cuba in a Dec. 16 friendly. It would have been his 30th cap.
Information from Goal.com was used in this report.