Homer-happy Mets offense goes from worst to first over past month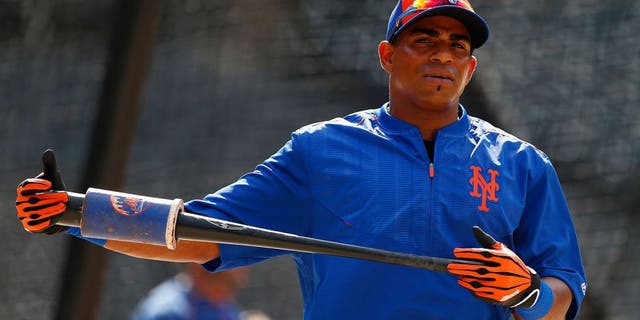 What a month it's been for the New York Mets - punctuated by their record-setting home run binge in Philadelphia on Monday night.
A lineup that couldn't seem to get out of its own way and was the subject of widespread ridicule by Mets fans last month has been transformed from a punch line into a devastating unit that has propelled the team to a 5 1/2-game lead in the National League East.
Captain David wright returned from an injury absence of more than fourth months on Monday and noticed the difference after the Mets launched a club-record eight home runs in Monday's 16-7 demolition of the Phillies.
"This team seems like it's on a mission," Wright said.
That hardly looked like the case on July 24, when a third straight loss had the Mets ranking dead last in the NL in runs scored, runs per game and home runs. Things appeared so bleak that it prompted one disgruntled fan to set up a Go Fund Me page to pay for a hitter.
The startling makeover began with the acquisitions of Juan Uribe and Kelly Johnson on July 24, continued with the arrival of Yoenis Cespedes a week later and may have been galvanized by the non-trade of Wilmer Flores.
Johnson and Uribe entered the lineup and played an integral part a 15-2 romp over the Los Angeles Dodgers on July 25, igniting a stunning offensive revival over the next month. From July 25 to Aug. 24, the Mets lead the NL in runs (165), homers (50), RBIs (159) and doubles (73).
More impressively, New York amassed 49 runs during its current four-game winning streak and has done so without the services of leading home run hitter Lucas Duda, who is sidelined by a back injury.
"It's unbelievable, the resiliency," Wright told reporters. "You watch it on TV and you can see the look in these guys' faces. They don't believe they're going to lose. I got to experience it firsthand."
(h/t New York Post)