Holly Holm shows off her dance moves with young fan at UFC 196 workouts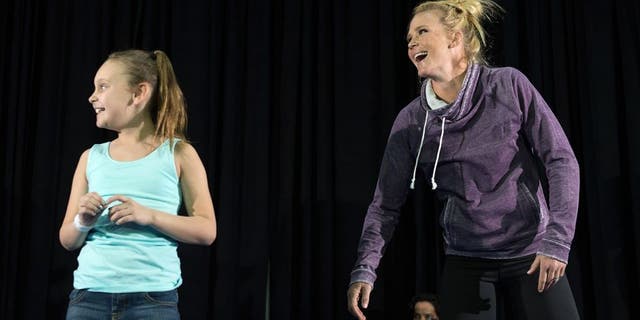 LAS VEGAS -- Holly Holm might be preparing for the most important fight of her career at UFC 196, but that doesn't mean she won't make time to have some fun with her fans.
Following a brief workout at the MGM Grand in Las Vegas on Wednesday, Holm decided to bring one of her youngest supporters up on stage with her.
At UFC 193 in Australia, Holm did the same thing but actually exchanged a few strikes with a fan on that occasion.
This time around, Holm decided to show off some dance moves instead while teaching the little girl how to do 'The Sprinkler'.
"I love that the fans get into it and props to her being a good sport and coming up and just having a good time," Holm said after dancing on stage.
It looks like Holm has got her dance moves down pat and she even managed to pass along some knowledge to the younger generation as well.
There's no word whether Holm plans on using 'The Sprinkler' as her post celebration move if she defeats Miesha Tate on Saturday night.