Hold the ketchup — and the paycheck?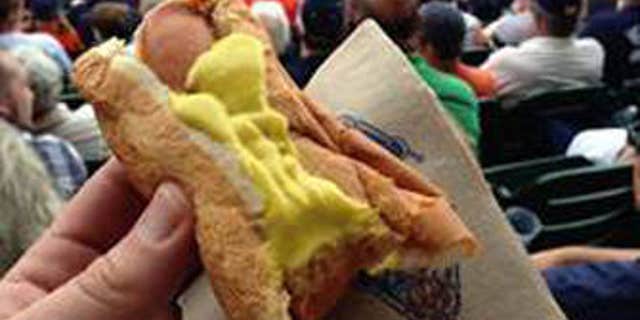 Remember the singing hot dog vendor who graced Detroit Tigers Stadium with his "Hoooootttt doooogggg" bellowing? Yeah that guy who got canned.
@SinginHotDogMan Got this action shot during the Boston series. pic.twitter.com/OMF7VARZz7
-- Kyle Wilson (@RealKyleWilson) August 9, 2013
Well, Friday will be the first home game the Detroit Tigers have without him doing his routine to sell the ball park franks.
Some fans will miss the opera singing salesman and some will be happy he's gone. It will be a hell of a lot quieter, that's for sure, and according to the Detroit News , Charley Marcuse the former vendor is still coming to terms with that.
"It's gonna be very weird. I'll sort of have the mentality as if they're away. So it'll be weird knowing they're here," Marcuse said Thursday in his first interview with The Detroit News since he was let go last Friday.
"It'll probably take a little while for it really to hit home.
"I hope that there's some way to come back."
When we first reported that he got fired last Friday, it wasn't clear on why Marcuse was let go. Well, if the stadium was that upset off at his singing sales pitch, seems like it wouldn't take them 15 years to let the veteran vendor go.
According to The Detroit News, word on the hot dog grapevine Marcuse was let go because of his hatred of ketchup on dogs.
That's right, the man knows what a real hot dog is supposed to have on it. Any foodie knows the correct way to eat a dog is only with mustard, unless it is a specialty dog, but never ketchup. That's just hot dog etiquette.
His allegiance to mustard is no secret once you view his Twitter profile. People even complain to him about the ketchup abusers:
Amen! RT" @chriscahill1992 : @SinginHotDogMan If you put ketchup on a hot dog, then i think you deserve an ejection from that baseball game."
-- Singing Hot Dog Man (@SinginHotDogMan) September 5, 2013 @stephenclark @kiwilarenne I'll do my best but what did you expect, marrying a Kiwi??? Stubborn and upside down, what are you going to do!
-- Singing Hot Dog Man (@SinginHotDogMan) September 5, 2013 You get the point, the man despises ketchup and so do I. It's like putting ketchup on eggs or rice . . . disgusting. It's just not right. Some fans felt that he was combatant when they requested ketchup and there were complaints filed against him. So when a person tells you the correct way to tie a tie are you going to report them as well? Whatever.
When asked by the Detroit News whether condiments actually were behind his dismissal, Marcuse was vague.
"It was general employee conduct," he said, relaying the reason he was given."I've vended the same way for the past 15 years, so there's nothing new to any of this."
Marcuse love for mustard is so known in Detroit that his local fame has led to his own line of the yellow stuff, Charley's Ballpark Mustard, sold in local Detroit grocers.
"Kids come up to me," said Marcuse, "and say, 'Hey, 10 years ago you taught me to just put mustard on a hot dog.'"
He started selling dogs the last year at Tiger Stadium, in 1999, after his Dad pointed out an ad in the newspaper.
Little did Marcuse know that it would turn into 15 years of employment -- and, oddly enough, a whole lot of local and national attention.
"I think all the fuss is as ridiculous as anybody else," Marcuse said of his firing making the news. "I'd much rather be working the ballgame tomorrow night."
The way I see it, all the was doing was promoting the correct way to enjoy a hotdog and making an honest living. He deserves his job back and hopefully the stadium sees it that way too.
One thing Marcuse loved to do was converse with the fans.Many of the Tigers fans, however, wished he wouldn't. One common critique is he takes himself too seriously.
Marcuse had this to say:
"How seriously can you take yourself selling hot dogs? I am just a hot-dog man.
"It's a job I love that I would like to keep doing."