History of No. 17: DW, Pearson, Kenseth all excelled in it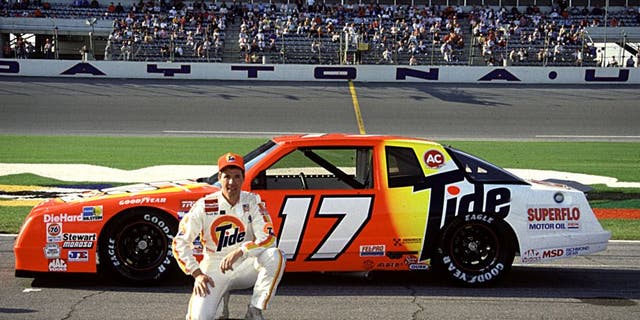 Ricky Stenhouse Jr. drives the No. 17 Roush Fenway Racing Ford Fusion now, but the use of the No. 17 in NASCAR dates all the way back to 1949 and the first year of the NASCAR Strictly Stock Series, which would later become the NASCAR Sprint Cup Series.
The first time the No. 17 was used in the Strictly Stock Series was on July 10, 1949, on the old Daytona Beach & Road Course. And the driver was a woman. That's right, Danica Patrick wasn't the first woman in NASCAR, not by a long shot.
Sara Christian drove the No. 17 at Daytona in '49, finishing 18th and winning the princely -- or should we say, princessly -- sum of $25 for her efforts. Christian would make seven starts in her NASCAR career, but that was the only one in the No. 17.
All told, 96 different drivers have piloted the No. 17 in the NASCAR Sprint Cup Series.
Of those 96, only three have won races, but what a trio they are: NASCAR Hall of Fame members David Pearson and Darrell Waltrip, and 2003 series champ Matt Kenseth.
Pearson won 30 races in the No. 17, Kenseth took 24 and Waltrip 15. That's 69 race victories from three drivers, an impressive total.
Kenseth won the Daytona 500 in 2009 and 2012 in the No. 17, while Pearson took championships in the Holman-Moody-owned No 17 in 1968 and '69.
But the most famous race for the No. 17 was probably the 1989 Daytona 500, which was won by Waltrip in a Hendrick Motorsports Chevrolet. It was the NASCAR Hall of Fame driver's first and only Daytona triumph and it came, fittingly enough, in his 17th attempt.
In Victory Lane, Waltrip famously cried and danced his version of the "Ickey Shuffle," a dance performed by then-Cincinnati Bengals running back Ickey Woods.
And today's bar bet question: How many different drivers drove the No. 17 in Cup races in 1981?
The answer: 10. Yes, 10 different drivers piloted the No. 17 in 1981. They were: Tommy Houston, seven races; Mike Potter, 6; Glenn Jarrett and Lowell Cowell, three each; Steve Spencer and John Anderson, two each; Roger Hamby, Steve Pfeifer, Harry Gant and Lake Speed, one each.
By The Numbers, for No. 17 in the NASCAR Sprint Cup Series:
Starts: 1,590
Wins: 69
Wins by driver: David Pearson, 30; Matt Kenseth, 24; Darrell Waltrip, 15.
Top fives: 328
Top 10s: 573
Poles: 48
Average start: 18.00
Average finish: 16.59
Drivers: 96