High school basketball star turns down $1.4 million offer to play overseas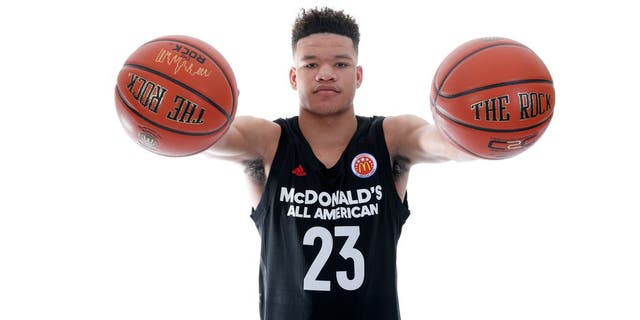 NEWYou can now listen to Fox News articles!
The college basketball season was recently completed, and now that it's behind us, it's never too early to look forward to 2018. And when we do, one name that every fan needs to know is Kevin Knox.
The five-star small forward from Tampais projected as a "one-and-done" player, and although he hasn't yet picked a college, he will almost certainly have an impact wherever he goes.However, if one professional team had his way, Knox would have never played college ball at all.
That's because according to a wide-ranging profile of Knoxfrom the Tampa Bay Times, he had at least one offer to play overseas for over $1 million -- an offer that his familysaid "no" to.
He has already turned down an offer to turn pro as soon as he graduates from Tampa Catholic. A professional team from China called his parents last month, offering $1.4 million for their son to play overseas for a year before entering the NBA draft.
"I didn't put much stock into the offer," said his father, also named Kevin. "We politely said thanks but no thanks. He's going to college."
While the headline "high school star turns down $1 million" is catchy, at this point, it shouldn't be surprising.
Since Brandon Jennings first opened the door for players toskip college and play overseas back in 2009, a handful of guyshave electedto do it. It has become more common in recent years, withEmmanuel Mudiay spending a year in China before being selected seventh overall by the Denver Nuggets in 2015, with Terrance Ferguson -- a projected first round pick this spring -- spending last season in Australia.
So, it's no surprise Knox was reportedly offered the deal.Frankly, there are probably other prospects in this class (and others) who have been offered similar contracts and we just haven't heard about them.
Instead, however, Knox will go to college. He had his list narrowed down to North Carolina, Kentucky, Duke and Florida State, and recently added Missouri after they received a commitment from top prospect Michael Porter Jr.
He'll almost certainly only be in college for one year -- one year too long for at least one professional team overseas that pursued him.
AP | Copyright The Associated Press. All rights reserved.