'He's one of a kind': Andersen turning into a playoff bonus for reigning champion Heat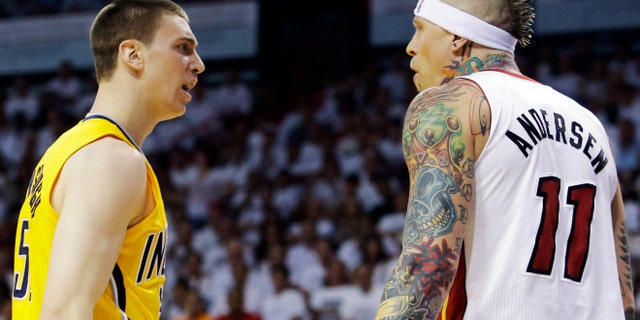 MIAMI – When Chris Andersen does something particularly impressive for the Miami Heat, a heavy metal guitar riff blares through their arena. Some children have shown up for games with replicas of his tattoos drawn upon their bodies. Others have gotten their hair gelled and shaped to match his Mohawk 'do.
His style is unmistakable.
His numbers are pretty eye-catching as well.
With a career that once looked like it would be inevitably cut short by his own mistakes, and in a season that started with him out of the NBA completely, Andersen has emerged into a huge piece of what the Miami Heat hope is a second straight championship puzzle. He's shooting an absurd 83 percent from the floor in these playoffs, including a 7-for-7 effort in Game 1 of the Eastern Conference finals against Indiana, a series that resumes in Miami on Friday night.
"He's perfect," Heat guard Dwyane Wade said.
He was in the opener of this series, anyway. And the Heat — who prevailed 103-102 in overtime, on a buzzer-beating layup by LeBron James — needed every bit of Andersen's 16-point effort, a postseason career-high for him and his highest-scoring game yet in a Miami uniform. The seven makes on seven attempts topped Alonzo Mourning's previous club record for best shooting in a postseason game, one better than his 6-for-6 effort in 2007.
Forgive Andersen, who can usually be found either getting into scrums with opponents or grabbing rebounds that they've unsuccessfully jostled for, if he wasn't impressed. He doesn't care about stats at all, and wasn't even aware that his 29-for-35 shooting so far in these playoffs — mostly dunks and layups — is better than anyone in the history of the league who has attempted at least that many shots in a single postseason.
"Is that what I'm shooting? OK, then," Andersen said. "I don't even think about that. I just basically take what the defense gives me."
He's the prototypical energy-and-effort guy off the bench, which is what Heat coach Erik Spoelstra was convinced his team needed. So he pestered Heat president Pat Riley for years about trying to bring Andersen — who worked out for the club as a non-drafted, non-tattooed free agent a decade or so ago — into the mix.
"He's one of a kind," Heat forward Shane Battier said. "I've never had a teammate like him. But he's a great teammate."
The Heat signed him to a pair of 10-day contracts in January, all the while knowing that he was staying for the duration of the season. And in a season of uncanny marks for the reigning champions, the numbers with Andersen are off the charts.
When he plays, the Heat are 48-4.
When he plays at least 13 minutes, the Heat are 35-1.
When he gets four rebounds or more, the Heat are 28-0.
"Rarely do we let a player like that leave our gym as a nondrafted free agent," Spoelstra said. "But we did, watched him develop and from afar we were fans. Tried to get him two or three years ago, weren't able to and so when the opportunity came available it was really a no-brainer for us."
Spoelstra said the Heat did its "due diligence" when it came to looking at Andersen's past, which included being barred from the NBA for more than two years because of substance-abuse issues.
In Miami, he's become a fan favorite, even though a few months ago he was "huntin' hogs and livin' that country boy life" in Texas and Colorado and not thinking about basketball all that much. And when the Pacers talk about how they believe this Heat team is better than the one that ousted them in the second round a year ago, they're not necessarily speaking about last summer's addition of Ray Allen.
Instead, it's Andersen that has captured Pacers coach Frank Vogel's attention.
"The defense and rebounding is a dramatic difference from what they had in the past two years. It's a dramatic difference," Vogel said. "He's a great screener, he's a great finisher at the rim offensively. He's probably the biggest upgrade or difference between last year's team and this year's team — no disrespect to Ray, who's obviously a Hall of Famer."
Heat center Chris Bosh said Andersen's numbers shouldn't be diminished by the fact that most of his offense comes from close range.
"Finishing is a really underrated part of the game because it's not always easy," Bosh said. "Some you're going to be wide-open, but you still have to be in the right place at the right time."
Makes sense, since Andersen got brought to the right team at the right time, at least in his estimation.
Andersen turns 35 this summer, but clearly has plenty left in his proverbial tank. It's believed that the Heat will try to bring him back next season, and Andersen has said he enjoys playing in Miami. (One look at his starring role in the Heat "Harlem Shake" video that's gotten nearly 45 million YouTube hits shows his comfort level in the locker room, and that was taped just a few weeks after his arrival.)
Any talk about next season — or next month, for that matter — will have to wait.
Andersen has never had as good a shot at winning a championship as he does now, and that's why he's insisting that there's nothing on his mind besides helping the Heat find a way to get past the Pacers and back to the NBA Finals.
"It is incredible," Andersen said of his story, with the twists and turns leading him to where he's at now. "But at the same time, I'm just trying to stay in the moment, keep my focus on what I need to do and where I need to improve. I know I'm destined for more."