Hertl shoots and scores — very often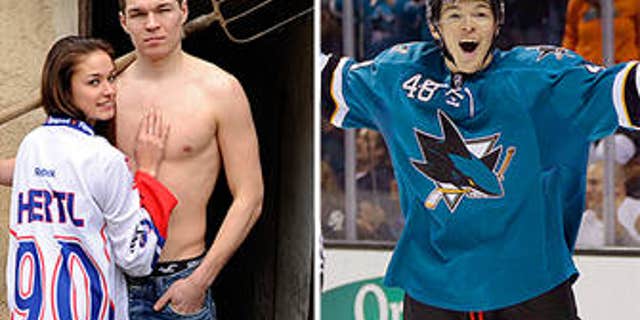 Tomas Hertl introduced himself to the world Tuesday night. And lucky for the world, his girlfriend and his world-class stickhandling came to the party with him.
The details alone are staggering: Hertl, 19 years old and playing in his third career game, became the youngest player in more than 25 years to score four goals in San Jose's 9-2 rout of the New York Rangers . He tied the Sharks record for goals in a game. He now leads the NHL with seven points and six goals.
But it's the videos that sell the story. Look at his fourth goal:
Marcio Jose Sanchez/AP Photo
Yeah, that's through the legs and a wrister behind his back past Martin Biron -- in because the Sharks chased 2012-13 Vezina finalist Henrik Lundqvist from the game.
And that's not even the best video. You see, in attendance at SAP Center was Hertl's mother. And she brought with her Hertl's girlfriend, reportedly from his native Czech Republic. Between his mother's tears and his girlfriend's looks, the TV crew couldn't get enough of them.
CSN Bay Area
Despite his breakout night, Hertl remains very much a mystery. We know he was the 17th pick in the 2012 Draft out of the Czech Republic. And we know that, naturally, he was a big fan growing up of Czech legend Jaromir Jagr. We also know this because he and his girlfriend did their own take of an iconic photo of Jagr and his then-girlfriend Andrea Veresova.
isport
Now, about Hertl's girlfriend. She, too, is a mystery (as evidenced by the fact that the above was the best shot of her from Tuesday night we could come up with). While the San Francisco Chronicle reported that Tuesday night was his girlfriend's birthday, no English-language outlet has published record of her name.
Safe to say it won't be long before we all know who she is. Right, Katherine Webb ?