Herschel Walker on Trump: 'He's my frontrunner' for president in 2016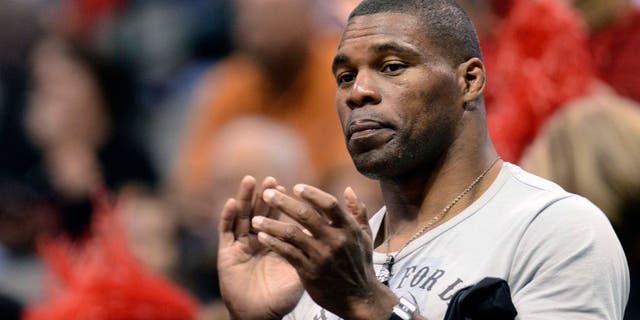 NEWYou can now listen to Fox News articles!
Billionaire businessman Donald Trump has captured the attention of the American public in his pursuit of the Republican nomination for the 2016 presidential election. Recently, former NFL running back Herschel Walker became a vocal member of the growing contingent supporting Trump's candidacy.
"There's not a doubt in my mind right now he is my frontrunner," Walker told Josh Peter of USA TODAY Sports. "I'm not going to say anything negative about him because it's not true."
Before Walker became a Pro Bowler with the Dallas Cowboys, the 1982 Heisman Trophy-winner played for Trump's New Jersey Generals of the USFL. Walker was on the team when Trump took over the franchise in 1984; the team improved from 6-12 to 14-4 in his first season as owner.
"(Trump) wanted to win and he was prepared to go out and do whatever it took to win," Walker said, per USA TODAY Sports. "He was a guy that always did what he said he was going to do."
Walker supports Trump for his business experience, anti-establishment platform and idea to build a wall at the U.S.-Mexico border, according to USA TODAY Sports, but he is not in favor of deporting 11 million undocumented immigrants.
"When are we going to get back to what's best for this country?" Walker told USA TODAY Sports. "I think that's what's Donald is pushing to do."
(h/t USA TODAY Sports)