Hernandez's attorneys have difficult, not impossible, job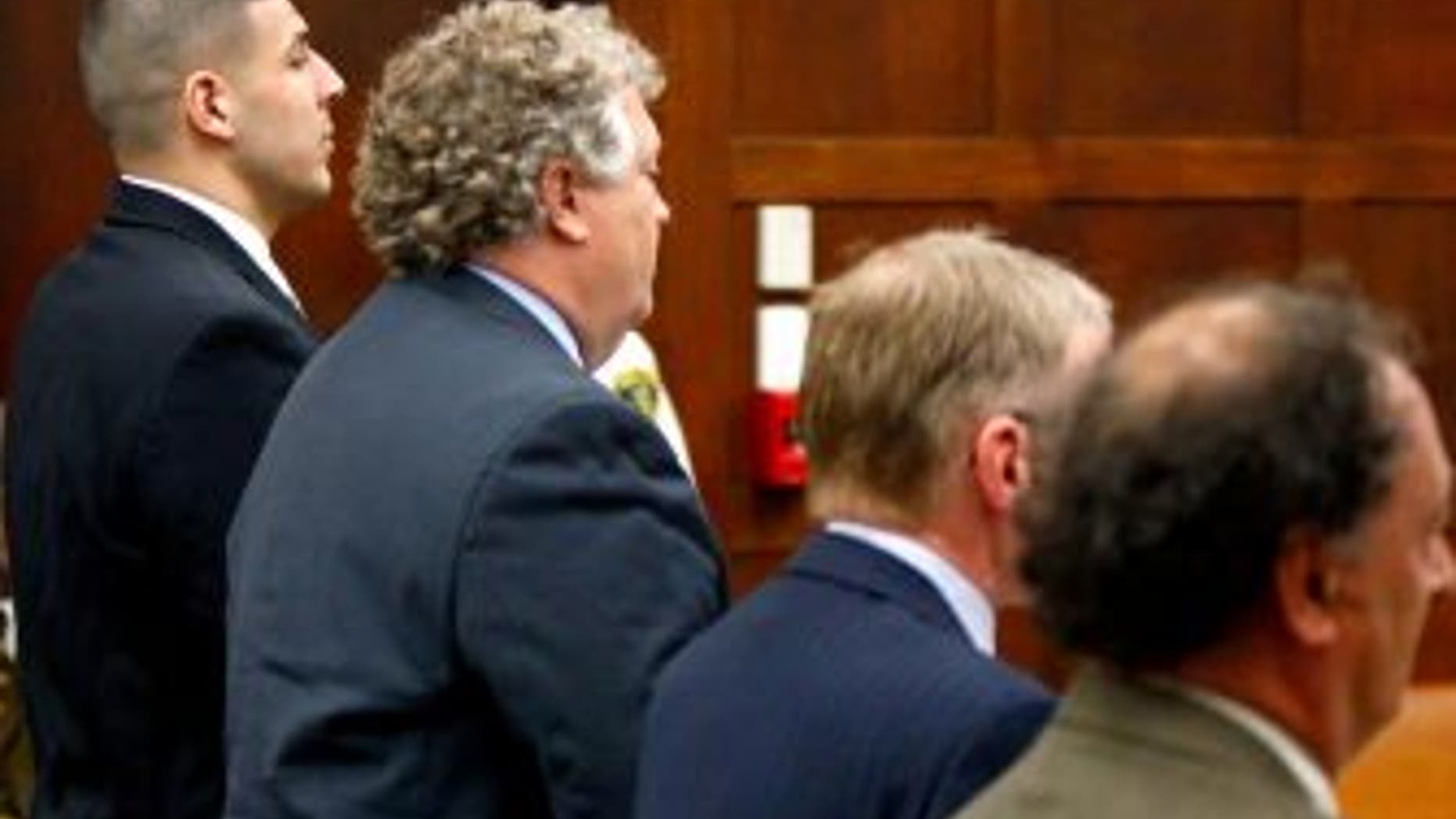 BOSTON – Prosecutors pursuing two separate murder cases against former football star Aaron Hernandez have already compiled a cache of evidence they plan to use in court.
Video from numerous surveillance cameras. Cell phone tracking data. Text messages. Ballistics evidence. Eyewitness accounts. Even dirt from beneath an automobile used in one of the killings.
All of that added up to a "very, very strong circumstantial case," one judge said of the June 17, 2013, murder of Odin Lloyd, 27, a semi-pro football player who was gunned down in a secluded field less than a mile from Hernandez's mansion in North Attleboro, Mass.
And legal experts have said the second case in which Hernandez has been indicted – the July 16, 2012, murder of Daniel de Abreu, 29, and Safiro Furtado, 28, and wounding of a third man at a South Boston intersection – appears to be even stronger.
Even so, Hernandez's lawyers have openings on a number of fronts that may allow them to fight back in a courtroom. It is not clear yet when either case could go before a jury. The general rule of thumb in Massachusetts is that a trial can be expected about a year after a suspect is arraigned. However, Hernandez was initially arrested and arraigned in Lloyd's death last June 26, and no trial date has been set. And no trial date is expected to be scheduled for months -- at the earliest -- in the deaths of de Abreu and Furtado.
Hernandez, at the time the star tight end for the New England Patriots, was arrested a little more than a week after Lloyd's bullet-riddled body was discovered by a jogger. Prosecutors have alleged that Hernandez summoned two associates from his hometown of Bristol, Conn., to his mansion, then arranged to pick up Lloyd in Boston's Dorchester neighborhood. Hernandez allegedly drove the other three men back to North Attleboro, where Lloyd was killed.
But the other two men alleged to have been there that night, Carlos Ortiz and Ernest Wallace Jr., have also been charged with murder, and prosecutors have not disclosed their theory of the actual killing – including who fired the fatal shots – except to contend that Hernandez "orchestrated" the murder.
Court documents have made it clear that prosecutors have images from numerous surveillance cameras – including some that allegedly show Lloyd getting into a car with the other three men – as well as text messages and other phone records that bolster the case.
But prosecutors also have potential problems – including the shifting stories of Ortiz, who appeared for a time to be a star witness and has now been deemed "completely unreliable," and the lack of a murder weapon.
And Hernandez's lawyers have already attacked the prosecution's assertions.
In a recent motion seeking the dismissal of the charges, Hernandez's lawyers wrote: "Despite the enormous quantity of evidence presented, the Commonwealth utterly failed to establish probable cause that Hernandez either murdered Odin Lloyd himself or participated in a joint venture with others to do so. Specifically, there was no forensic evidence presented linking Hernandez to the shooting, no eyewitness testimony, no inculpatory statements by Hernandez, and no evidence that Hernandez had motive to kill Lloyd. Basically, all that the Commonwealth showed the grand jury is that Hernandez was in a car with Lloyd and several other individuals shortly before Lloyd was shot to death."
"Other than having Hernandez in the car with Odin Lloyd, there's no one identifying him of doing the shooting," said Stephen Weymouth, a Boston criminal defense attorney.
One tactic he said Hernandez's lawyers could attempt would be to seek a court order to sever the former NFL star's case from those of Ortiz and Wallace. Then, if Hernandez is tried separately, his legal team would undoubtedly subpoena Ortiz and Wallace to testify. Because both have also been indicted on murder charges, each would almost certainly invoke his Fifth Amendment right against self-incrimination and refuse to testify. And that could benefit Hernandez.
"That will leave an impression with the jury," Weymouth said.
And even if either were to testify, defense attorneys would have plenty of ammunition to discredit either one.
Ortiz has a criminal record, and days after Lloyd was killed authorities in Connecticut sought to revoke Ortiz's probation in a larceny case after he tested positive for alcohol, cocaine, THC and PCP. And prosecutors have acknowledged publicly that he has changed his story about the night Lloyd was killed – opening the door for defense attorneys to attack his credibility if he were to offer testimony that was damaging to Hernandez.
Wallace is in essentially the same situation. He has a criminal record going back to 1988, and a slew of aliases, and is accused of fleeing to Florida in the days after Lloyd's killing – all of which the defense could be expected to pounce on if he were to testify.
In the South Boston case, prosecutors have alleged that Hernandez seethed after de Abreu inadvertently bumped into him in a nightclub, spilling some of his drink, and failed to apologize. That led Hernandez, they asserted, to follow de Abreu, Furtado and three friends after they left the club, catching their car as they waited at a red light. There, prosecutors have alleged that Hernandez reached out the driver's window and fired multiple shots from a .38-caliber revolver, killing de Abreu and Furtado and wounding one of the three passengers in the back seat.
At Hernandez's arraignment, First Assistant District Attorney Patrick Haggan said that among the evidence in the case was "eyewitness identification," indicating that the survivors of the incident may have identified the former football star as the shooter.
"This case in Boston looks a little tough, at this point," Weymouth said.
But as with the Lloyd killing, witness statements provide Hernandez's lawyers with several openings to attack the prosecution's case.
Court documents, for example, cite surveillance camera footage from a parking garage that clearly shows Hernandez driving a silver Toyota 4Runner believed to have been used in the killings and his passenger, an associate named Alexander Bradley, sitting in the right front seat.
But according to court documents, the man who was wounded in the car de Abreu was driving remembered it differently. He told detectives that when he first saw the SUV next to the car he was in, he noticed a driver and a passenger in the back seat. And, he "stated that suddenly several shots were fired from the rear passenger area of the SUV into the car he and his friends were in."
Eyewitnesses are notoriously unreliable – two people who observe the same incident often remember it differently, and that can be compounded by fear. Still it opens the door for defense attorneys to challenge a key allegation by the prosecution.
Defense attorneys can stand before the jury and ask, in effect, which story should we believe? The prosecution's assertion that Aaron Hernandez fired these shots from the driver's seat, or the words of a man who was just a few feet away and said that a passenger in the back seat pulled the trigger?
"The fact there's a person in the victim's car who says there was a passenger in the rear of Hernandez's vehicle firing the gun is incredibly helpful evidence to the defense," said Weymouth, the Boston defense attorney.
Then there's Bradley himself.
Bradley, as recently as January 2013, was still tight with Hernandez – he was stopped by a Massachusetts state trooper for allegedly driving drunk, and the player was with him in the car. But Bradley later alleged that Hernandez shot him in the face in February 2013 in Florida, and he has filed a federal civil lawsuit seeking money.
Bradley, who fought a subpoena seeking his testimony and later went into hiding to avoid appearing before the grand jury, appears to have ultimately cooperated.
At Hernandez's arraignment, Haggan, the chief prosecutor, quoted from statements allegedly made by Hernandez both before and after the shootings – statements that almost certainly were provided by Bradley during his grand jury testimony.
As he sped west on the Massachusetts Turnpike, for example, Haggan quoted Hernandez as saying, "I think I got one in the head and one in the chest."
According to court documents, de Abreu was hit in the chest, Furtado in the head.
But – like Ortiz and Wallace in the Lloyd case – Bradley is a potential witness with baggage. He has a 2006 conviction on his record for selling drugs, plus a domestic violence arrest, and now sits in jail in Connecticut accused of opening fire after a dispute at a Hartford nightclub.
And he has filed a lawsuit against Hernandez seeking money, making him susceptible to an argument that he has an ax to grind with his former friend.