Hernandez scheduled for court date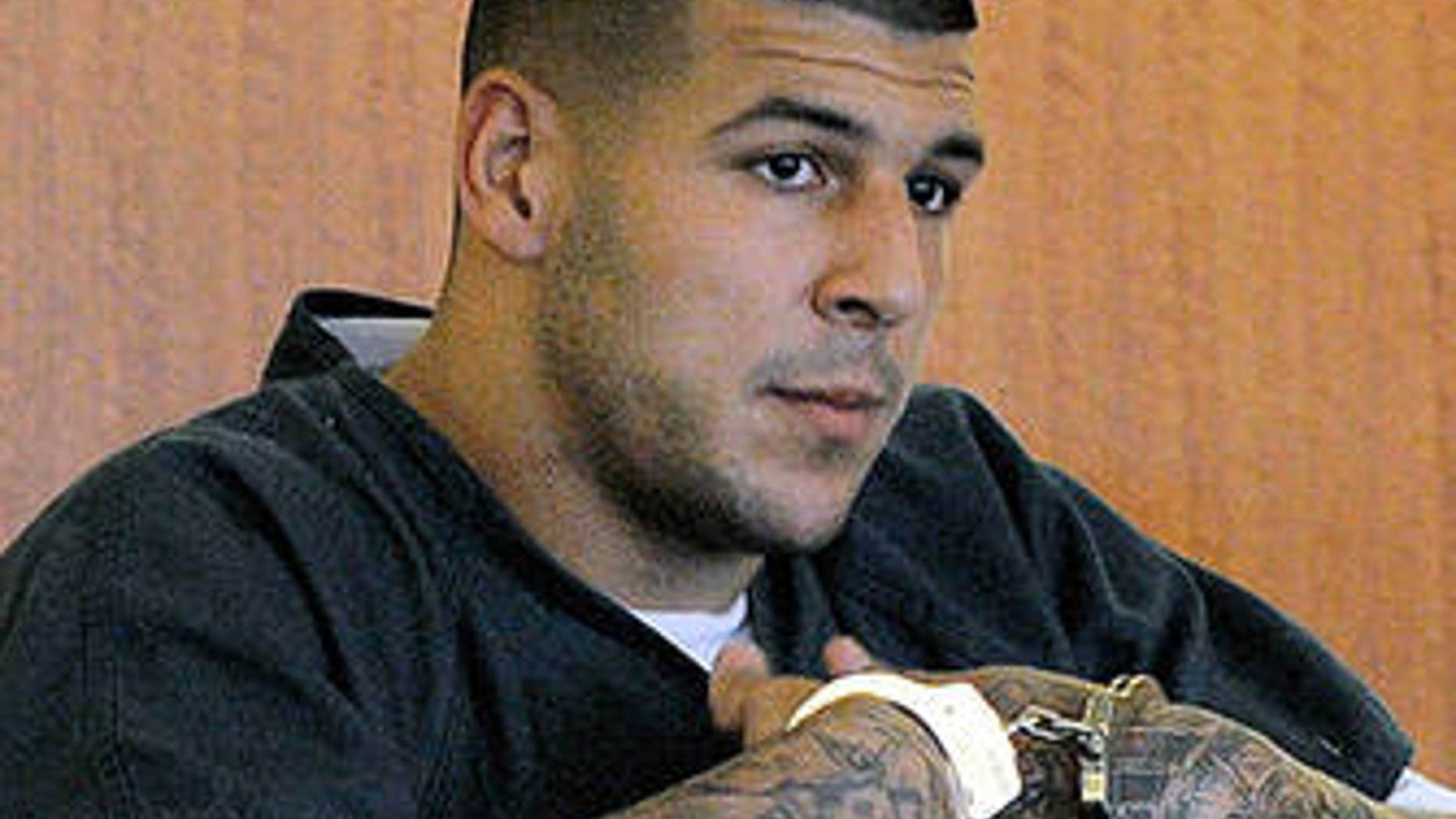 ATTLEBORO, Mass. – Former New England Patriots tight end Aaron Hernandez is scheduled to be in court Thursday for a hearing that could shed new light on the murder of an acquaintance who was gunned down in a secluded industrial area not far from the player's home.
Hernandez, 23, remains behind bars without bail, charged with shooting and killing Odin Lloyd, a 27-year-old semipro football player whose girlfriend's sister is the former Patriot's fiance.
Scheduled Thursday is a "probable cause" hearing - a procedural step at which prosecutors have to present enough evidence to convince a judge that a crime occurred in an effort to keep Hernandez behind bars pending an expected indictment.
The case is also being considered by a grand jury, and if it issues an indictment before Hernandez gets to court, the hearing will be cancelled. The first time the probable cause hearing was scheduled, prosecutors asked for more time - and it's possible that absent an indictment they, or Hernandez' lawyers, could request a postponement.
Assuming it goes on, however, it has the potential to provide new details about the prosecution's case against Hernandez, who had signed a five-year, $40 million contract extension in 2012 but was cut by the team after his arrest.
According to FOX Sports legal analyst Rob Becker, prosecutors, for example, could reveal whether they've located the gun used to kill Lloyd, or whether either of the two men allegedly present at the time of the killing, Ernest G. Wallace Jr. and Carlos Ortiz, has cooperated with investigators or plans to testify against Hernandez. Wallace and Ortiz are facing lesser charges.
Investigators have been searching for both the murder weapon and for the driver's side mirror that was broken off a rented Nissan that prosecutors allege Hernandez was driving early the morning of June 17, when Lloyd was shot and killed in an industrial park in North Attleboro.
Court documents portray a trail of contact between the four men the night Lloyd was killed. Using cell phone records and images from surveillance cameras - including several at Hernandez' North Attleboro home - detectives pieced together the hours leading up to Lloyd's death.
At times that reconstruction was detailed down to the minute, according to affidavits filed by detectives, and including numerous text messages laced with phone slang - "aite" for "all right," and "idk" for "I don't know," "u" for "you."
The contacts began just after 9 p.m. on June 16, a Sunday, according to court documents, with a text sent from Hernandez' phone to Lloyd : "I'm coming to grab that tonight u gon b around I need dat and we could step for a little again."
After trading several messages, Lloyd sent a text that read: "Aite idk anything goin on."
Over the next several hours, prosecutors allege numerous contacts between Hernandez, Wallace and Ortiz, and images captured by surveillance showed the men leaving home in the rented Nissan, stopping for gasoline, and ultimately picking up Lloyd in Boston around 2:30 a.m., according to court documents.
Lloyd later sent four text messages to his sister, Shaquilla Thibou, beginning at 3:07 a.m. with "u saw who I'm with." A later text identified the friend as "Nfl" - apparently a reference to the National Football League.
At 3:23 a.m., Lloyd sent a final text to his sister: "just so u know."
At almost exactly the same time, according to court documents, surveillance cameras on businesses in the area showed a car thought to be the Nissan enter an industrial park a little more than a mile from Hernandez' home. The same camera showed the car leaving the area four minutes later.
Other cameras captured it on a road between the industrial park and Hernandez' home, and a surveillance image there captured at 3:33 a.m. shows Hernandez standing in his house with what appears to be a gun in his hand.
Lloyd's body wasn't discovered until late in the afternoon. At the scene, detectives found five spent .45-caliber shell casings - all fired from the same gun - and two sets of keys were located in Lloyd's pockets to a Chevrolet Suburban with Rhode Island license plates. The Suburban had been rented by Hernandez, according to court documents.
About the same time police were called to the gravel pit where Lloyd's body was found, Hernandez was returning the rented Nissan, according to court documents, with its driver's side mirror broken off.
In a dumpster at the Enterprise office, police later found a bottle of Vitamin Water, paper with a child's drawing, a chewed piece of gum, and a spent .45-caliber casing - all of which had been thrown away by a worker who cleaned the car.
The shell casing matched the five found at the murder scene, according to documents.