Hernandez apparently having trouble paying his mounting legal bills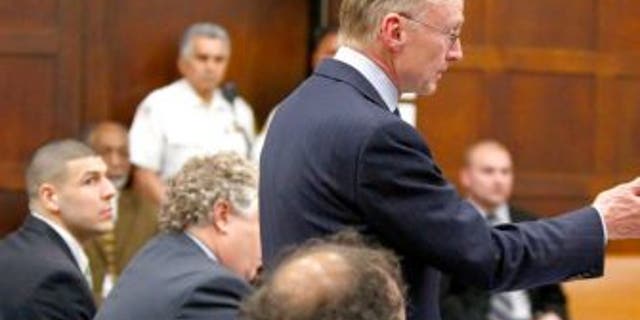 BOSTON – Former New England Patriots star Aaron Hernandez — accused of committing three murders and the subject of multiple civil lawsuits — is having trouble paying his attorneys, FOX Sports has learned.
Boston lawyers Charles Rankin and James Sultan, who along with a third attorney have been leading Hernandez's defense since he was jailed last June, appeared at the former football star's arraignment this week — but filed documents with the court indicating they may not continue to represent him.
In their notice, Rankin and Sultan said their representation of Hernandez in the latest criminal case filed against him was "limited to arraignment only and related proceedings."
The reason: A portion of the $12.5 million bonus that was supposed to be guaranteed to Hernandez when he signed a contract extension in 2012 is in dispute, and his $1.3 million home is the subject of a restraining order that prevents him from selling it or using it for anything other than paying a future judgment in a civil lawsuit filed by the family of one of the men he is accused of killing.
Hernandez faces criminal charges in two separate shootings that left three men dead and another wounded:
-- Hernandez was indicted last year on murder and weapons charges in Bristol County, Mass., where his home is located, in the June 17, 2013, killing of Odin Lloyd, 27. Two other men have also been charged with murder in that case.
-- Hernandez was indicted earlier this month on murder, assault and weapons charges in Suffolk County, Mass., in the July 16, 2012, slayings of Daniel de Abreu, 29, and Safiro Furtado, 28, and the wounding of a third man in South Boston.
Hernandez has pleaded not guilty in both cases.
Rankin and Sultan, along with Boston attorney Michael Fee, have been at Hernandez's side since the early days of the investigation of Lloyd's death.
"The defendant is in the process of seeking to make financial arrangements to retain counsel" in the Boston case, Rankin and Sultan wrote in their notice to the court.
The lawyers asked that Hernandez be given 60 days "to make such arrangements" and notify the court of the status of his attorneys.
Fee, who recently changed law firms, was also at this week's arraignment and, as of Friday, had not filed any documents with the court indicating that his continued work in the case was in jeopardy.
None of the attorneys responded to a request for comment from FOX Sports.
Public records show that Hernandez, through a company incorporated in Ohio, purchased his home in North Attleboro, Mass., in November 2012 for $1.3 million. Those records do not show whether any portion of the purchase price was financed.
However, Hernandez had, just months earlier, signed a seven-year contract extension that included a $12.5 million signing bonus.
Nearly half of that bonus, $6 million, was paid when Hernandez signed the contract, and another $3.25 million was paid in March 2013.
But the final $3.25 million hasn't been paid and is the subject of a dispute between the team and the players union, and he can't use the value of his mansion to fund his legal defense. After Lloyd's family filed a wrongful death lawsuit against Hernandez, the judge issued an order that prevents the sale of the North Attleboro home or the use of its value for anything but a possible future judgment in that case.
And attorneys for the Patriots agreed that even if they are ordered to pay the remainder of the signing bonus, they will notify the court rather than give the money to their former Pro Bowl tight end.
Hernandez faces two other wrongful death suits, filed by the families of de Abreu and Furtado, and a federal civil lawsuit filed in Florida by a man who alleged that Hernandez shot him in the face and dumped him out of a car on a deserted road in February 2013.