Here's why neither Wales nor Portugal wore red in their Euro 2016 semifinal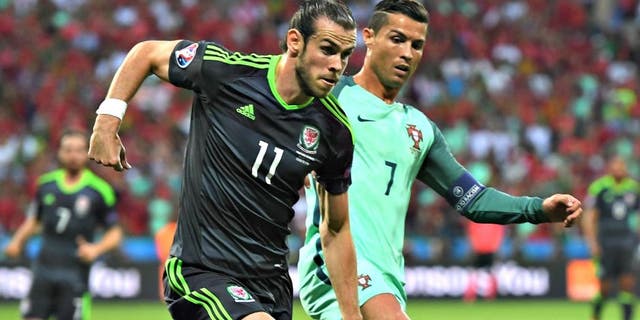 NEWYou can now listen to Fox News articles!
When Portugal and Wales came out for their Euro 2016 semifinal clash and neither team was clad in their usual red kit, fans were understandably confused. Instead of one team wearing their away kit and the other wearing red (the color of both of their home kits) … both sides donned their away strip.
The reason for this is about what you would expect from a FIFA/UEFA-sanctioned tournament: totally bonkers.
Per Wales Online, as the "home" team, Portugal would have first dibs on wearing their red kits. Wales' charcoal and lime-green kit was adjudged to be too similar in darkness to the Portugal red and thus a color clash.
As such, Portugal were resigned to wear their seafoam green away kits. One big question still remains, though. Why couldn't Wales then switch to their red kit, with Portugal forced to play in their green ensemble regardless?
It stands to reason that Wales would -- assuming no color-clash issues -- prefer to play in their red kits, especially in front of their red-clad fans. In order to do that, they'd need to make a simple request. UEFA or Portugal could block the request, however. If Wales didn't make the request, then the whole point is moot.
If they did make the request, then did UEFA put the kibosh on it? Or could the Portugal federation have gone with a "no red for us, no red for you" approach? Perhaps we'll never know, but it's a shame that neither Cristiano Ronaldo nor Gareth Bale managed to wear their first-choice kit on the big stage in France.
MORE FROM FOX SOCCER: