Here's why Jimmy Garoppolo should refuse a contract extension with the Patriots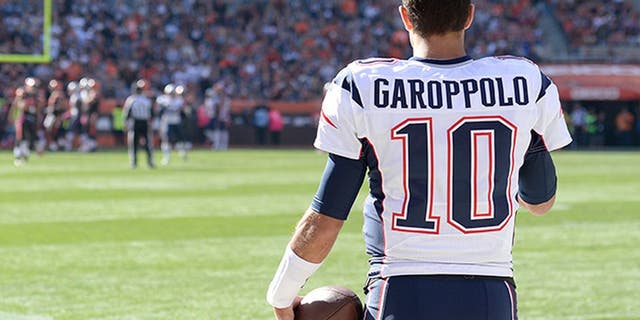 NEWYou can now listen to Fox News articles!
Its often said that when you have two quarterbacks, you dont have one. That typically pertains to teams like the Browns, Jets and 49ers, who seemingly always have competition at the position but never truly find a surefire starter.
This notion doesnt pertain to the New England Patriots. They have two starting-caliber quarterbacks on the roster in Tom Brady and Jimmy Garoppolo, putting themselves in good shape for the foreseeable future.
Orso it seems.
Brady wants to play for another six or seven years, which the Patriots would love. Garoppolo, on the other hand, wants to play now and understandably so. That throws a wrench into New Englands plans.
Garoppolo said last week that he would entertain any possibility when it comes to his contract situation with the Patriots, but that was hardly a declaration that he wants to remain in New England long-term. And he shouldnt want to. He should refuse to sign an extension with the Patriots this offseason, as well as next.
Consider this: Garoppolos contract is set to expire in 2018, making him a free agent next March. Hell be able to sign with whichever team hed like, probably becoming itsWeek 1 starter. Giventhe number of teams that need a starting quarterback right now, there will be no shortage of options. The Jets, 49ers, Browns, Bills (maybe), Jaguars. The list goes on.
A bidding war will ensue for Garoppolos services assuming he doesnt A) play and completely tank this season, or B) get seriously hurt which will make him one of the biggest names on the free-agent market.
Itll almost be like Brock Osweilers situation. A year ago, Osweiler was aninexperienced quarterback who learned from a Hall of Famer for a few yearsand had good potential and a promising skill set. Thats all Garoppolo is right now: a commodity. There are no guarantees hell be a perennial Pro Bowl selection. There are no guarantees hell even be a multi-year starter. The Texans thought Osweiler was that, and after just a year they traded a second-round pick to get rid of him.
But thats Garoppolos best asset: uncertainty. Teams that will be bidding on him next offseason will simply be projecting what hell become. Theyre guessing hell be a franchise quarterback after seeing him throw fewer than 100 regular-season passes. Sure, his play has been solid up to this point, but Osweiler was 5-2 as a starter in 2015 with 10 touchdown passes and six picks. Take it with a grain of salt.
If Garoppolo signs an extension with the Patriots this offseason, hell give away all the leverage he has. Right now, the ball is completely in his court. He decides his worth, and doesnt have to sign for a penny less than his ideal compensation. The Patriots cant force him to stay for $10 million per year when next year in free agency he can make $18 million to $20 million.
Settling for a three- or four-year deal with the Patriots right now or even next year would be the worst thing Garoppolo could do. Not only would his contractbe worth significantly less than if he signed it next year, but hed be putting himself in a spot to be the highest-paid backup quarterback in the NFL. There isnt a single player in the NFL whowants that title. He wants to be a starter just like everyone else in the league.
Obviously, I want to play. Its the competitor in me, Garoppolo saidlast week.I think everyone out here wants to play. We come out here and compete out here for that opportunity. If you earn it, its yours.
Barring a serious injury, Brady is going to be the Patriots starter next season, the year after that, and probably in 2019. Thats three years of riding the pine for Garoppolo, which completely goes against the competitor in him.
Instead, Garoppolo can use his leverage and drag this process out. At worst, the Patriots gain leverage in 2018 thanks to the franchise tag. This year, a tagged quarterback will make $21.268 million. That number will rise again in 2018, setting Garoppolo up for a huge short-term payday. If it were to come to that, the tag wouldbe a better option for him than signing a long-term extension. It would give Garoppolo more than $21 million guaranteed for one season before affording himself the opportunity to hit free agency again in 2019.
At best, the Patriots let him reachfree agency, spurring a bidding contest. If Mike Glennon can get $15 million per year for four years, Garoppolo can easily fetch $18 million to $20 million per year on the open market. So why would he settle for, say, $12 million a year this offseason from the Patriots to sit on the bench indefinitely?
Another option is forcing the Patriots hand when it comes to a possible trade. His value in a potential deal will never behigher than it is right now. He has limited tape, limited injury history and the ceiling of a Pro Bowler. Next year, his trade value drops with free agency looming.
By refusing an extension this offseason, Garoppolo can put the Patriots in a position where they either have to trade him, franchise tag him next year, or sign him to a long-term extension in free agency. Regardless, Garoppolo puts himself in a spot to succeed. Hell either play for a team this season (if the Patriots somehow trade him in the next two months) and possibly sign an extension with that team sooner rather than later, or hell ride the bench for a year before making a ton of money.
Neither of thosethings is possible if he re-ups with the Patriots this offseason. Hell be limiting his options both financially and as a player, which would be foolish on his part.
As it stands right now, Garoppolos best path to playing and cashing in remains the same: Wait it out for a year, and either sign the $22 million-plus franchise tag or break the bank in free agency the way Osweiler and Glennon did.