Here's why Ezekiel Elliott will wear cleats with a picture of his dog on them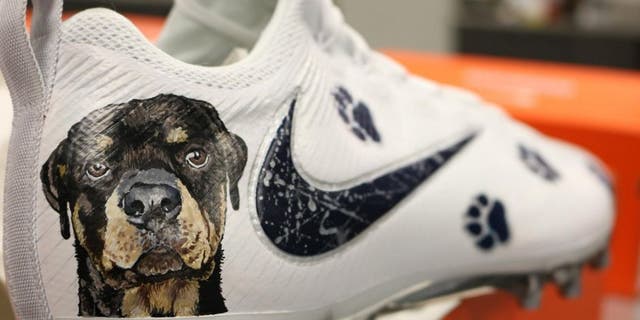 Across the NFL this week, players will be wearing custom cleats. This may not sound like anything new, given the fact that so many already wear them. However, this week is special because players are allowed to wear them during games, not just while warming up before kickoff.
The campaign is called "My Cause, My Cleats," encouraging players to wear custom kicks to support a charity (or cause) of their choice. For Ezekiel Elliott, he'll be campaigning against animal cruelty while also pushing for more people to adopt from shelters.
His cleats feature paw prints, dog bones, the words "Adopt, Volunteer, Prevent Cruelty," as well as a photo of his dog Ace.
Last month, Elliott sponsored a $21 adopt-a-pet day in Texas, encouraging people to adopt pets without homes rather than buying them from the store.
Jason Witten is also among the Cowboys wearing custom cleats this week for a good cause, raising awareness for domestic violence. His shoes feature the phrases "Stand up, Speak out, Stop domestic violence."
Travis Frederick will be wearing cleats to block out hunger, as well.
They'll wear these cleats on Thursday night against the Minnesota Vikings.