Here's why Draymond Green wasn't ejected for his 'second' technical foul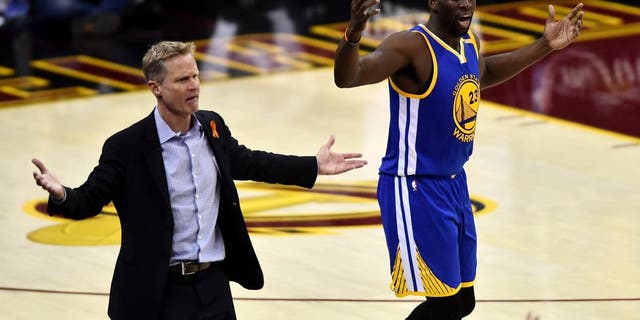 NEWYou can now listen to Fox News articles!
Game 4 of the 2017 NBA Finals featured a whole lot of confusion and an absolute mess thanks to the officiating crew.
Golden State Warriors forward Draymond Green was called for a technical foul in the first quarter after committing a foul on Cleveland's Iman Shumpert. Then, just over halfway through the third quarter, Green was whistled for another technical after being called for a foul against the Cavaliers' Kevin Love.
Yet Green lingered on the court as fans, the announcer crew and both teams tried to figure out what was going on. After several minutes, the broadcast announced that the first technical foul was in fact on Warriors coach Steve Kerr, who'd leaped off the bench in protest of the foul committed against Shumpert as well.
There's a problem, though. According to ABC sideline reporter Doris Burke, every member of the official scorer's table heard the referees call Green for the initial technical. According to Burke, that technical was assessed to Kerr only after Green picked up his second.
Now, maybe there was some miscommunication between the officials and the scorer's table, or maybe the referees reviewed the play and made a different determination but failed to relay that information to the scorers. The broadcast crew further clarified after a television timeout, via the official who made the call on Green, that the initial call was just a personal against the Warriors forward and a technical on Kerr.
Either way, the officials played a much bigger role in Friday's game than the NBA would like.