Here's proof that Pablo Sandoval is not in the best shape of his life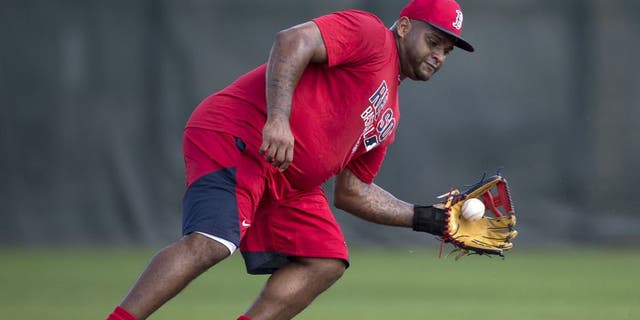 Boston Red Sox third baseman Pablo Sandoval didn't exactly make a good first impression when he reported to spring training Sunday.
Quite the opposite, in fact.
Coming off arguably the worst season of his career -- in the first year of a five-year, $95 million contract with the Red Sox -- Sandoval was reported to have shed 20 or so pounds during the offseason. But this photo from The Boston Globe is worth a 1,000 words (or 1,000 calories):
Sandoval hit only .245/.292/.366 with 10 homers and 47 RBI in 126 games with Boston last season, well off his career norms while helping the San Francisco Giants win three World Series championships (2010, 2012, 2014).
There are contrasting reports of whether the Red Sox asked Panda to slim down during the offseason. Sandoval, whose weight was an issue while playing with the Giants and appeared to affect his defense last season with the Red Sox, told reporters Sunday that the team didn't ask him to lose any weight.
In any case, Sandoval has six weeks of spring training to improve his physique.