Here's proof that Matt Holliday is working out at first base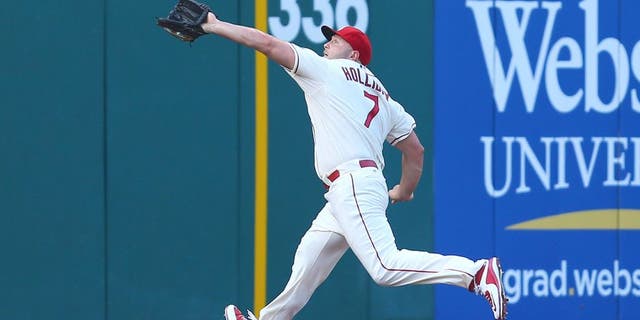 The speculation has been confirmed: St. Louis Cardinals veteran outfielder Matt Holliday is indeed working out at first base.
Reports that the 36-year-old Holliday was working out at first emerged in December following his insistence during last season that there was no possibility he would play first base after returning from injury.
With the Cardinals slated to begin spring training next week, Holliday was spotted working out at first base at the team's facility in Jupiter, Fla., which is seen in the below photo.
Holliday insists that his work at the position is so that he can be "versatile enough to play there in a pinch," per the St. Louis Post-Dispatch.
"I wanted to challenge myself," he told the Post-Dispatch. "And I had the time."
In his 12-year big-league career, Holliday exclusively has played left field, holding a lifetime .983 fielding percentage.
However, now at age 36 and having suffered lower-body injuries over the years during his tenure with the Cardinals, including a quadriceps injury last season, a position shift might be in the cards for the slugger.
It might be a natural fit for him, too.
From the Post-Dispatch:
While St. Louis already has a first baseman in Matt Adams, Holliday's potential versatility to play the position would provide the Cardinals with depth at first while additionally giving them the flexibility to improve defensively in left field and simultaneously keep Holliday's bat in the lineup.