Here's how historic David Johnson's start to 2016 has been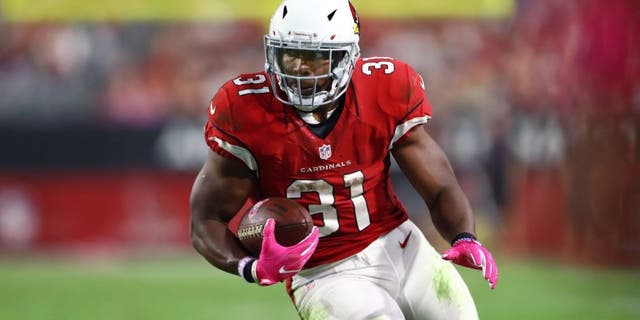 NEWYou can now listen to Fox News articles!
Sunday night's Arizona Cardinals-Seattle Seahawks game was 75 minutes of ugly football that ended with no definitive answer as to which team was better -- or less bad, considering how terrible both teams were for the duration of the overtime game. We came away wondering whether it was just a matter of two stellar defenses keeping their opponents in check or if the offenses were just so inept that neither team actually poses a threat as a Super Bowl contender.
Despite all of the questions left unanswered in the anticlimactic tie, one thing was undoubtedly established: David Johnson is one of the three best running backs in the NFL, and he has the potential to be an all-time great. Seeing as he's only in his second season, it's far too soon to anoint him as a future Hall of Famer. However, it's not too soon to begin discussing him as one of the premier playmakers in the league today, or even an MVP candidate.
With his 171 yards from scrimmage against the Seahawks, Johnson is now on a historic pace this season. He has 1,004 total yards in 2016, standing as the only player in quadruple digits through seven weeks. Though he didn't find the end zone on Sunday night, he does have eight TDs on the year, all of which have come on the ground.
It's clear the Cardinals have made Johnson the focal point of the offense, and rightfully so. He's touched the ball at least 30 times in two of the last three games, averaging 32 touches per game in that span. In the first four weeks, he never had more than 22 touches in a game. It's no surprise Arizona is 2-0-1 in the past three weeks, and Johnson has a lot to do with it.
But just how good has he been? Let's put his astronomical numbers into some context.
With 1,004 yards from scrimmage and eight touchdowns through seven games, Johnson is now on pace for 2,295 total yards and 18 touchdowns.
Only twice in NFL history has a player had at least 2,250 yards from scrimmage and 18 touchdowns: LaDainian Tomlinson in 2006 (2,323 yards and 28 touchdowns) and Priest Holmes in 2002 (2,287 yards and 21 touchdowns).
Johnson is also head and shoulders above his peers this season. He has 170 more yards than any other player -- Falcons receiver Julio Jones is second with 830 -- and is tied for the league lead with eight rushing touchdowns.
As ridiculous as his numbers are, he's flown somewhat under the radar. Few people are talking about him as an MVP candidate despite players like Ezekiel Elliott getting love in that department. Some of that has to do with the Cardinals being 3-3-1, but it's also due to the fact that he wasn't the centerpiece of their offense until Week 5.
Now that he's erupted in the past three games, Johnson should be given serious consideration as an Offensive Player of the Year candidate. Tomlinson was named MVP the year he racked up 2,323 yards and 28 touchdowns, and Holmes was Offensive Player of the Year in 2002.
With that taken into consideration, Johnson is certainly one of the few frontrunners for both awards.