Henry Cejudo fought for what he believed in, before agreeing to fight for the title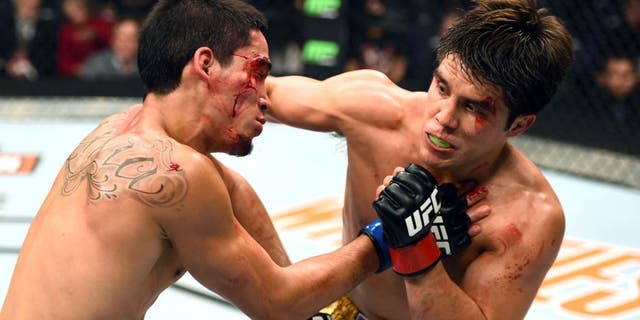 NEWYou can now listen to Fox News articles!
On Saturday, it was announced that Henry Cejudo would challenge Demetrious Johnson for the flyweight UFC title in Las Vegas. Things don't usually go this well.
That's good news for the sport, as Cejudo is a compelling challenger for the dominant champion. It's good for Cejudo, and he does deserve the shot.
And, though the fight could be a tough one for him, it's a good thing for Johnson, who has waited for longer than he wanted to for another fight and payday. There's more to celebrate, here, though, and it has to do with how this fight -- the right fight -- was no guarantee just a few months ago.
Back in September, Cejudo had already set himself apart as a top flyweight contender with an undefeated record and three straight UFC wins. He would add one more victory, his most impressive to date, in November against Jussier Formiga.
A potentially life-changing title shot seemed around the corner for Cejudo. It was at that very time that the Olympic champion decided to let the world know that he would refuse to fight for a world title if it were to take place in Nevada, unless the state's athletic commission revisited their bizarrely unfair processing and suspension of Nick Diaz.
It was a one-man boycott. Cejudo was speaking up when it most made financial sense for him to keep quiet, and putting his own fortunes on the line for a fighter it wasn't clear he even had a relationship with.
A born and bred competitor, Cejudo surely wanted to become a world champion in MMA just as he'd become the best on the globe at wrestling. There were, however, more important concerns than his own welfare.
"As a competitor, I want to compete and I want to accomplish everything, but to me the message here is to do what's right. Will I become a UFC champion some day? I know I will. Will I do it now? Maybe I don't have to. Maybe I'm more into protests now for the sake of this man who's been wrongly processed with this five-year ban. That's ridiculous," he said, at the time.
Cejudo said he looked up to the likes of Martin Luther King Jr. and labor leader Cesar Chavez. The fighter needed to fight for something larger than himself.
So, he did. And, as far as we can tell from the outside, he'll enter his Las Vegas title fight against Johnson with his integrity intact.
The UFC entered the battle in their own way, loaning their legal counsel to Diaz to negotiate Nevada's suspension. With the biggest promoter in the state putting their legal heavy-hitters behind Diaz, it was no surprise that commission soon reconsidered and reversed themselves, essentially reducing Diaz's suspension to little more than time served.
Cejudo's stance may or may not have been a factor at all in Diaz getting a fairer shake. However, he had the guts to do something most others wouldn't consider doing.
And, after it all, he stuck to his guns and will still get what he's earned just as the man and principles he stood up for have been at least partially addressed. It may all be coincidence but I'm still going to personally sit back for a moment and enjoy a rare happy ending for everyone that matters.
Diaz will soon get to fight again. The flyweight division is getting the right title fight, next.
Cejudo lived according to his conscience, and wasn't ostracized or penalized for it. That's a good day.