Hendricks promises 'I will get that belt back'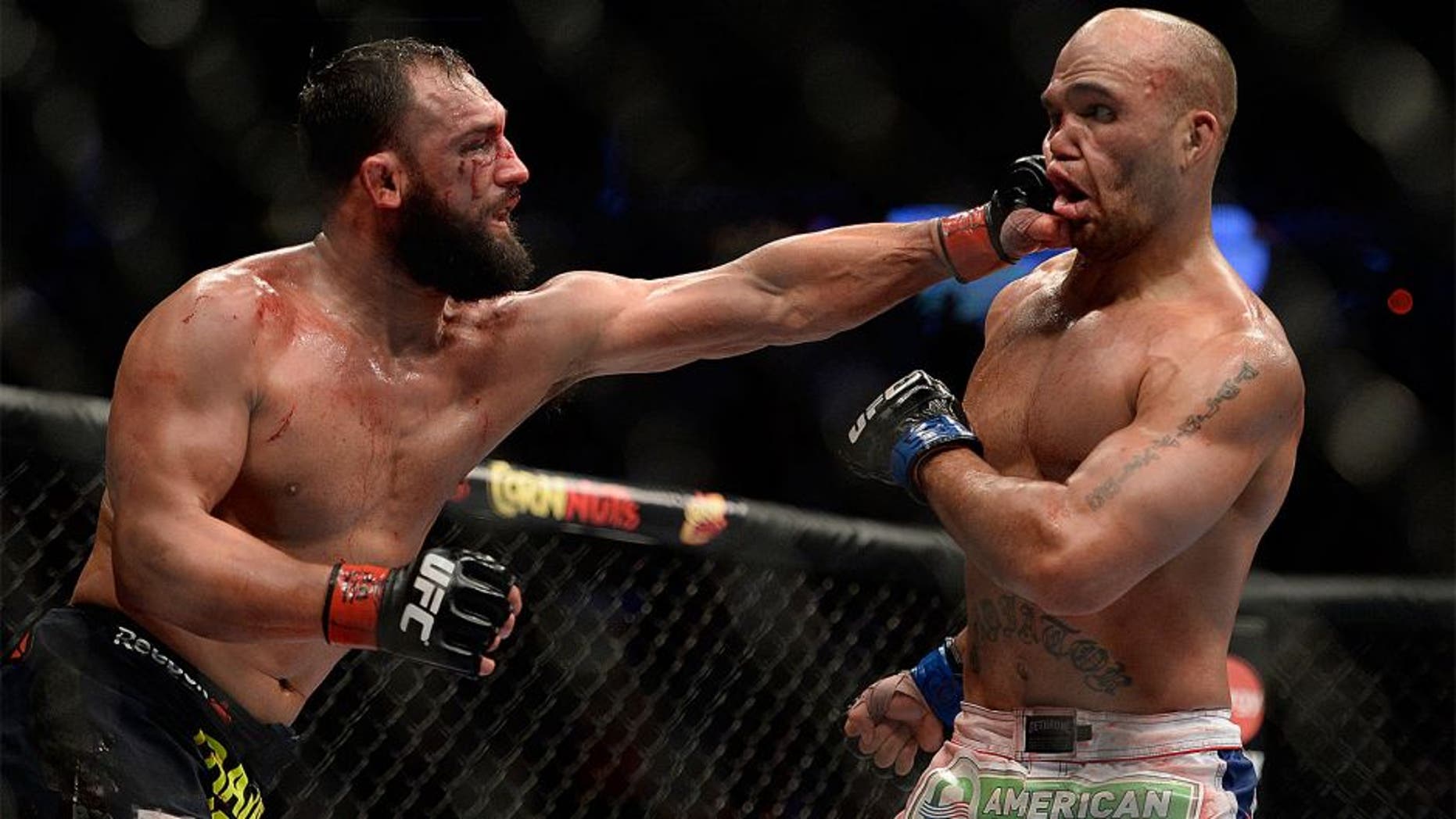 Johny Hendricks did everything asked of him to get back to another shot at the UFC welterweight title, but still got passed over in favor of Carlos Condit so now the former champion is changing the entire outlook on his career.
Hendricks lost the belt in a close, split decision to Robbie Lawler last December but then returned with a dominant victory over Matt Brown in March that was supposed to set up a rematch at some point in 2016.
Instead, Rory MacDonald got the shot at Lawler and now Condit will get the next crack at UFC 195 so Hendricks is done obsessing about the belt and he's just going to fight until there's no one left in front of him and the UFC has no other choice but to give him the shot.
"You can't be mad about it," Hendricks told FOX Sports. "Everything happens for a reason and you know, take the fight, I feel healthy, I feel good, I just sort of move forward. That's all I can really worry about. I'm just going to fight. I'm not getting disappointed about anything. Now I'm just going to fight. As long as my body stays healthy, I'm going to fight. I'm going to let my fighting get me my shot back. I'm not going to sit here and say things or do things ... I've got a family, I have respect for the sport and people I go up against. I'm going to let my fighting do the talking and I'm going to keep knocking them off.
"It sort of sucks because these could be title defenses in my mind. But hey, you move on, who cares. Fight them, fight them, fight them and keep winning."
Unfortunately this isn't the first time in his career where Hendricks has been mired in the middle of a title race where he just can't seem to get the championship fight he truly wants.
Hendricks was the No. 1 contender in 2012 when the UFC opted to give then-champion Georges St-Pierre a fight with Nick Diaz instead and it forced the former Oklahoma State wrestler to go out and defeat Condit in the interim rather than sit out for a year and wait.
During that time, Hendricks was quite vocal about his standing in the division and how he deserved to fight St-Pierre even if Diaz was actually in the title fight.
Two years later as Hendricks gets ready to face Tyron Woodley at UFC 192 this weekend, he's done calling out other fighters and telling people what he deserves. Hendricks has better things to focus on than to get embroiled in a war of words when all he really wants to do is fight.
"I'm done campaigning," Hendricks said. "I'm done doing all that other stuff. I'm only getting older and I tried to take the time to get myself where I wanted to be. It didn't happen. Now I have to take a step back and figure out what I can control. I can control taking fights. I can control keeping my body in shape. I can control, somewhat, the injuries.
"So everything I can control, I'm just going to keep fighting. If I have to fight every three months to get back the belt, that's what I'm going to do."
It's part of the reason why when the UFC opted to give Condit the title fight with Lawler, Hendricks just quietly accepted his next bout against Woodley and didn't say much in the meantime.
As he approaches the fight this weekend, Hendricks knows deep down inside that he's the real No. 1 contender at welterweight. He holds a win over Lawler from their first fight and also defeated Condit in 2013.
A win over Woodley would give Hendricks yet another top-five victory, but even if he doesn't get the title shot after this weekend, he's still not going to get discouraged or throw a pity party about his missed opportunity. Hendricks will just ask the UFC to line up the next toughest guy and eventually the UFC will run out of them.
"I do believe I'm the most complete fighter at 170 pounds," Hendricks said. "It's not cockiness and it's not arrogance. It's just believing in what I've got and believing that if I do the right things and I continue to do the right things, I will get that belt back.
"I'm only getting better. Look at Robbie Lawler, look at Carlos Condit -- they've been fighting what 10 or 15 years? I'm only on my eighth year of fighting. I'm still developing. That's what makes me excited where I'm at right now."