Hendrick slump about more than 'experimenting' for the Chase?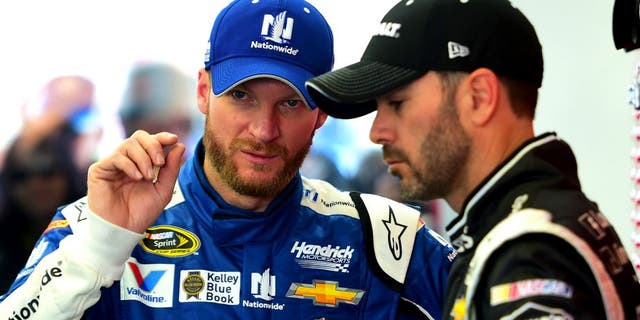 I'm not sure that race fans have really taken notice, but since Dale Earnhardt Jr. won the race at Daytona in July, Jeff Gordon has led five laps in the seven races since. Not a single Hendrick driver other than Jeff has led a single lap. So probably the biggest question I am getting every week now from fans isn't, "Who do you like this weekend?" but instead it's, "Are the Hendrick teams even going to be a threat in the Chase for the Sprint Cup?"
We all know once the regular season, as we call it, of 26 races is complete, the Chase changes a lot of things. What we saw Tony Stewart do in 2011 to me is something I don't think we'll ever see happen again. He barely made it into the Chase. They weren't running well but then hit on something that ended up bringing them five wins and Tony's third championship.
I still believe with all my heart that we better not take our eye off of that No. 48 car of Jimmie Johnson. I will say this, too: Of the four cars over there, he is the only one I say we need to keep our eye on. Dale Earnhardt Jr. and the No. 88 bunch are just too inconsistent. They are so up and then they are so down. I'm sure it was the "heat of the moment" post-race interview Saturday night, but it sure sounded like Kasey Kahne has already given up. When it comes to Jeff, sure, he'll be in the Chase, but I just see him finishing out his career these next 12 races and ending his NASCAR Hall of Fame career.
Other than the No. 48, I don't see the other three Hendrick drivers winning any of our remaining races. With that said, I always remind you there is the wild-card race at Talladega where anything can and normally does happen. Can things change? Sure they can, but we're just going to have to get into the Chase and see how it all plays out for Hendrick Motorsports.
In talking with Jimmie's crew chief, Chad Knaus, last week, I'll be honest: I see and hear concern coming from him about where they are. For those diehard No. 48 fans who want to believe, because they have already won four races this year, that the No. 48 has been spending the rest of the regular season experimenting, I just don't totally believe that's the case.
Do they try different things? Sure they do. Chad admitted as much to me, but they are definitely behind Joe Gibbs Racing and Team Penske right now.