Heat's Birdman on possibly being traded: 'It doesn't bother me one bit'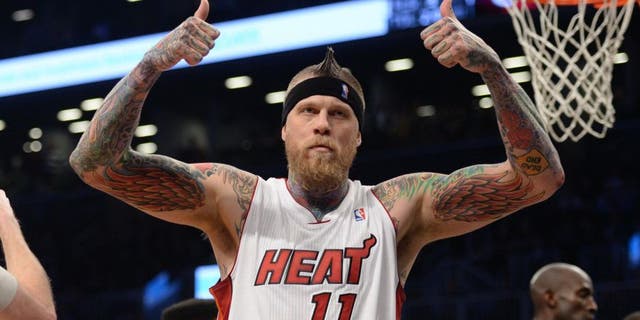 Miami Heat big man "Birdman" Chris Andersen can see the writing on the wall.
There is a good chance that Andersen -- who is now behind Chris Bosh, Hassan Whiteside, Josh McRoberts and Amar'e Stoudemire in the power rotation -- is not only expendable, but has to be traded, as his $5 million contract is going to trigger the Heat's punitive "repeater" tax.
Andersen, who had his career resurrected in South Beach, doesn't seem to mind, though, according to the Sun Sentinal.
"It's a business, man," Andersen said. "It doesn't bother me one bit."
That doesn't sound like a man that's fazed at all.
Rumors have surfaced that Andersen could be traded to the Los Angeles Clippers for reserve guard Jamal Crawford, but that deal doesn't seem likely either.
Andersen and reserve guard Mario Chalmers have been in countless rumors over the last few weeks, and that's unlikely to change until one, if not both, are eventually changed.
(h/t Sun Sentinal)