Heat set to host Game 4 of East finals, looking to put 'little brother' Pacers in 3-1 deficit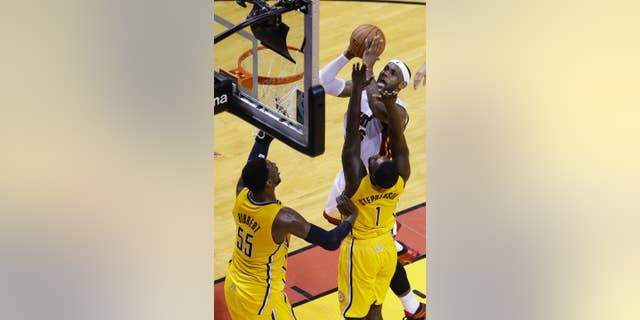 MIAMI – In the 2011 NBA Finals, LeBron James spent too much time for his liking talking about his purported rivalry with an easily excitable guard named Stevenson.
There's a new rival now.
His name sounds the same. Different spelling, though.
Back then, it was Dallas' DeShawn Stevenson. In these Eastern Conference finals, it's Indiana's Lance Stephenson in the foil role. James sees the obvious parallels but isn't interested in stoking the fires — especially with the Heat leading the Pacers 2-1 heading into Monday night's Game 4, one that could allow Miami to put a stranglehold on the series.
"Winning the game is more important," James said. "I understand what the main goal is."
Still, it seems fair to say that Stephenson and James got each other going often in Game 3. When the Pacers finished practice Sunday, Stephenson talked about how he enjoys ruffling the four-time MVP's feathers.
"To me, I think it's a sign of weakness," Stephenson said. "He never used to say anything to me. I always used to be the one who said, 'I'm going to do something to get you mad.' Now he's trying to do it to me. So I feel like it's a weakness. I feel like I'm doing something right because I'm getting under his skin, but I've definitely got to keep stepping up to the plate and be more aggressive when he does that."
The way Stephenson sees it, it's a little-brother vs. big-brother sort of scenario.
That's precisely the analogy Pacers coach Frank Vogel broke out on Sunday when talking to his team. Indiana was ousted by Miami in the 2012 playoffs, again in the 2013 playoffs, and now needs to beat the Heat in three of the next four games to avoid that same fate this year.
"The little brother spends his whole life getting beat up by the big brother, getting beaten in sports, sporting events, 1-on-1 basketball and what-not," Vogel said. "All those years of getting beat up builds him up to the point where he ultimately takes on the big brother."
So in Game 4, the Pacers will take on the big brother Heat again — with the knowledge that a 3-1 deficit could be especially dire given how good the Heat have proven to be when they get a close-out opportunity.
No, Monday isn't a must-win for Indiana.
But it probably ranks fairly close to that.
"We're pretty upbeat," Pacers forward David West said. "We don't get down on ourselves. The next game is a different game."
Miami is essentially saying the same sorts of things. The Heat are up 2-1, and surely understand that if it wasn't for some late-game rallying they could be in a 3-0 hole.
Indiana has led for nearly 99 of the 144 minutes played so far in this series, or about 69 percent of the time. Miami has led for just under 37 minutes, or about 26 percent. Somehow, it's the Heat in control after three games.
Go figure.
"Ultimately, you just have to find a way," Heat coach Erik Spoelstra said. "Our guys, the last two games, it's been very competitive, very close. Our better basketball has been at the end. What we're looking for is more consistency."
Miami's first-quarter numbers in this series: An average of 19 points on 45 percent shooting.
Miami's fourth-quarter numbers in this series: An average of 26 points on 53 percent shooting.
The finish flourishes have been needed, too.
"Yeah, we haven't played our best game," James said. "They probably feel the same way. We haven't started how we want to, how we need to. So we think our best basketball is yet to come."
Ray Allen gave Miami 16 big points off the bench in Game 3, all in the second half, and that was enough to give James and Dwyane Wade — who combined for 49 on 18 for 30 shooting — the extra help needed to get the Heat over the top and help them erase what was a 15-point deficit.
Stephenson blamed Indiana's turnovers, and the Heat turned 19 of those into 26 points.
So on that point, Stephenson and James probably agree. Everything else, probably not so much, but James wasn't looking to escalate any verbal jousting match Sunday.
"One thing I'm not going to do is give you all a storyline with LeBron and Stephenson," James said. "I'm not going to do that. It's the Pacers versus the Heat."