Heat rule out Whiteside for Game 4 vs. Raptors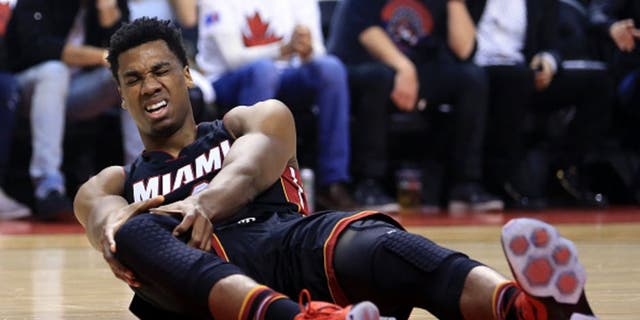 Miami Heat center Hassan Whiteside has been ruled out for Monday night's Game 4 matchup against the Toronto Raptors, the team has announced.
Whiteside suffered a MCL sprain during Game 3 of the series on Saturday, and had been listed on the team injury report as day-to-day. The severity of the injury is still unknown, and no timetable has been given for Whiteside's return.
"It's not always about who's the best team. It's always about who's the healthiest team," Heat guard Dwyane Wade told reporters on Saturday. "That being said, there's nothing you can do. ... It'll be a different game for us with Hassan out, but we have to figure out a game that's successful for us."
With Whiteside out, Udonis Haslem will likely see increased playing time.
"Whatever it takes, man," Haslem said. "This is why I keep myself in shape, so I can be ready."
Miami will certainly miss having Whiteside on both ends of the court. He led the NBA in blocked shots this season, averaging 3.7, and finished third in the voting for defensive player of the year. He averaged 14.2 points and 11.8 rebounds in the regular season on 61 percent shooting, then 12 points and 10.9 rebounds in the playoffs on 68 percent shooting.
The Raptors currently lead the series 2-1.
(The Associated Press contributed to this report)