'Heat Nation ain't going anywhere': Spoelstra addresses crowd as Miami holds open scrimmage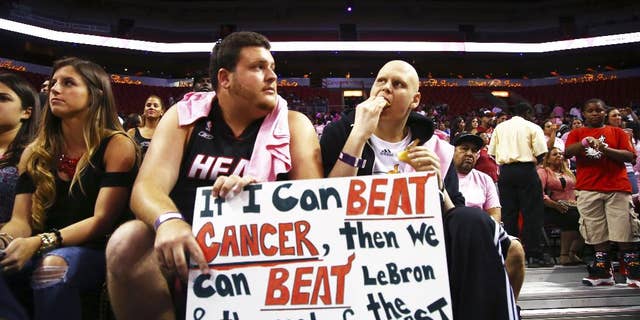 MIAMI – A fifth Eastern Conference championship banner already sways from the rafters of the arena that the Miami Heat call home, the list of Southeast Division titles has been updated and Gabrielle Union watched from courtside for the first time as Mrs. Dwyane Wade.
Of course, those weren't the only changes.
The new chapter of Heat basketball — the post-LeBron James era — went on public display for the first time Wednesday night, with nary a mention of the player who wore No. 6 in Miami for the last four seasons. The Heat held their annual open scrimmage for fans, simulating a game and combining the program with a tribute to breast cancer survivors.
"We are very excited about this upcoming season," Heat coach Erik Spoelstra told the crowd just before tipoff. "We had a terrific training camp this past week. These guys are working extremely hard. Let's kick off a great season tonight. Heat Nation ain't going anywhere."
Miami's preseason opener is Saturday in Louisville against New Orleans. The Heat will play Cleveland in Brazil on Oct. 11, which will be a circuslike exhibition because it will pit James against Miami, even if only in an exhibition setting.
So while much has changed for a Heat franchise that will try for a fifth straight East title this season, plenty has remained constant.
Wade went out just before tipoff and waved at fans on all four sides of the court, his signature pregame move for the past several seasons. Bosh was the first player to midcourt to get the game started, and Udonis Haslem — who rarely agrees with any whistle against him — argued with the referees over a foul call.
All typical sights, no matter the time of year.
So were some of the signature offensive moments of the evening, like Wade opening the scoring with a jumper from the right baseline, and Bosh weaving his way through the lane on the dribble, then reverse-pivoting his way clear for what became a two-handed dunk.
"Something just to interact a little bit," Wade said earlier in the day. "We're not even close to where we want to be."
And there was one special interaction.
Wade and Mario Chalmers hugged about three dozen breast cancer survivors who were brought to the floor at halftime, then were joined by Norris Cole, Chris Andersen and many other players and coaches.
Those women were saluted loud and long, as were a pair of Heat additions — former rivals Luol Deng and Danny Granger, both of whom addressed the crowd during stoppages in the first half.
"I love Miami," Granger said.
"It's first-class organization," Deng said.
The scrimmage was the eighth practice since camp began Saturday. The Heat are off Thursday and practice again Friday before flying to Louisville.
NOTES: Assistant coaches Dan Craig and Juwan Howard handled the coaching duties, with Spoelstra and assistant head coach David Fizdale primarily watching. ... Andersen and Josh McRoberts did not play, nor did Justin Hamilton, who was back with the team two days after undergoing a procedure to repair a slightly irregular heartbeat. Hamilton plans to resume workouts Monday and may still be ready for the start of the regular season. ... Most of the fans in attendance wore pink as part of the breast-cancer awareness program.